OKLAHOMA CITY — Connie Johnson has a major mountain to climb if she wants to upset Republican James Lankford in the U.S. Senate race.
Although neither candidate is the incumbent, this seat currently held by Tom Coburn has been a GOP stronghold since 1968 when Henry Bellmon defeated Democrat Mike Monroney.
Johnson and Lankford will square off in the Nov. 4 general election to decide who fills an unexpired term due to Coburn's resignation, which takes effect in January. The winner would face a re-election bid in 2016.
After defeating perennial candidate Jim Rogers in the Democratic runoff last week, Johnson is hoping to collect more financial resources and support from the Democratic National Committee. Many political analysts share the opinion the DNC might ignore Johnson and put its money into more competitive races.
"That may have been the attitude during the primary, but I think they (DNC) see that I'm strong and productive. They see that they might – with me as their candidate – be able to flip the reddest state in the country. I'm hearing they want to do something for me now."
Johnson is enthusiastic about the next two months, believing whole-heartedly that she can win if her message gets to the voters. She's also open to public debates with Lankford, who is considered a rising star in the Republican ranks.
"We've got to have conversations and talk about the issues in this race that are important and their impact on all Oklahomans," said Johnson, a state senator since 2005.
Jobs, education, improving the minimum wage and clarifying the federal government's role are some of the most key issues in the U.S. Senate race, according to Johnson. She also believes low-wage earners must be taught that their votes count.
"I've heard so many people who don't make a lot of money say they're proud they don't vote," Johnson said. "I talk to them about how elected officials determine such things as raising the minimum wage, contraceptives for women and local police departments using tanks on peaceful demonstrators. People have to be educated on the role the federal government plays in so many different issues. We have 62 percent of the people not voting because they think they don't make a difference."
Johnson is adamant that part of her mission is to cause voters to think about the issues.
"We need to get folks questioning about what's going on. That's the piece that will undo this mess. People need to start asking 'Am I OK? Are you OK?'
"Kinda vanilla"
Although Lankford is seen as the frontrunner in the U.S. Senate race, Johnson isn't acting the part of someone who will likely lose in November. In an interview with Red Dirt Report, Johnson was upbeat and enthused while also criticizing Lankford's most talked about issue.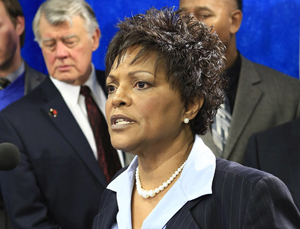 "He has campaigned on defeating Obamacare and little else. I've learned in over 30 years in government that the number one thing you do to change things is to introduce a new bill, one that will repeal an existing law. To my knowledge, Mr. Lankford hasn't done that," she said. "This race is about the issues in Oklahoma. President Obama is in Washington, D.C. It is not about Mr. Obama. It is about the people of this state. Let's not get it twisted."
Looking back at Lankford's congressional career since his election to the U.S. House of Representatives in 2011, Johnson said, "It's been kinda vanilla. No major headlines. But what I have seen is him pledging to undo something (Affordable Care Act) that his helping Oklahomans. Yes, I have heard the same horror stories from patients to employers, but that's no reason to throw the baby out with the bathwater. We have to find solutions to the problems because what happens to the people who are benefitting from the (current) health care system?"
Past service
As important as the issues will be in this race, Johnson contends her 33 years of government service and her ability to help people should be at the forefront.
"My substance on the issues and my years of real time involved with the legislative process will be important," she said. "There is no substitute for the work I've done for Oklahoma citizens. I've worked for people inside and outside of my (Senate) district."
According to her state Senate biography, Johnson has focused on children and families in her legislative career. She has concentrated on issues that disproportionately affect the economic and social well-being of the state's poor, minorities and women and children. As a lawmaker, she has trumpeted legislation and sponsored forums that promote health education and awareness about prevention and management of diabetes, stroke, cancer and tobacco. She also been an outspoken advocate for eliminating health disparities and domestic violence.
Prior to her election to the state Senate, Johnson worked 24 years as a senior legislative analyst for the Senate health and human service committee.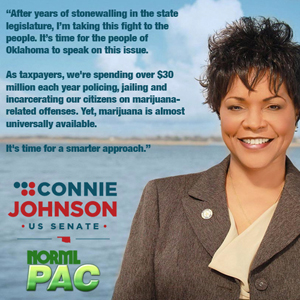 During her eight years in the Senate, Johnson has introduced a bill every year to reform marijuana laws in Oklahoma, including the legalization of medical marijuana. Each year, her proposed legislation was shot down. However, initiative petitions started this year by citizen groups have garnered substantial public attention for medical marijuana. The most recent medical marijuana petition failed to collect enough signatures to place the measure on the November ballot.
However, a second petition that would permit medical marijuana while legalizing and decriminalizing the drug is due in October. Organizers of that petition are hopeful they will be able to collect the required 160,000 signatures so voters, instead of legislators and lobbyists, can decide the issue.
_________
Editor's Note: Tim Farley is a political reporter for Red Dirt Report and his work appears here by specific agreement. As daily newspapers in both OKC and Tulsa continue to shrink and calcify; Red Dirt Report and Tulsa Today (online: 1996) will continue expansion of statewide coverage as equal opportunity aggravators of courage in honor of freedom for our nation, state and children not yet born.