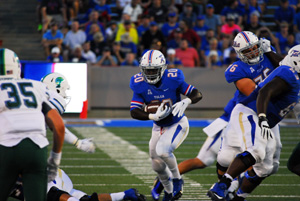 With an exciting 38-31 double overtime win over Tulane behind them the University of Tulsa Golden Hurricane is set to take on the OU Sooners Saturday with the kickoff set for 11 am in H.A. Chapman Stadium in Tulsa. The Sooners are coming off a 48-16 win on opening day over Louisiana Tech.
It will be the 27th all-time meeting between OU and TU with the Sooners holding a distinct advantage over the Golden Hurricane in a series that dates 100 years (1914). That year, in the final game of the season, the two teams met at South Main Park in Tulsa, (which was then located near 18th and Boston near Veterans Park), with OU winning 26-7.
In 26 games the Sooners have beaten the Golden Hurricane 18 times, TU has won seven games, most recently in 1996 when the Golden Hurricane defeated the Sooners 31-24 in Norman. They have battled to a tie just once. When the series has visited Tulsa, the Sooners have the advantage at 6-3, but at Skelly/Chapman Stadium the OU advantage is cut to just a single game at 4-3.
The last time Oklahoma visited Tulsa was in the 2007 season when the Sooners claimed a 62-21 victory. Overwhelmingly, the Sooners have dominated the series off and on for 100 non-consecutive years.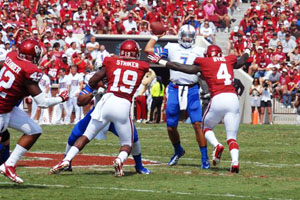 TU Head Coach Bill Blankenship nevertheless is waxing the positive and with good reason, his young squad overcame a three touchdown deficit in the first quarter to eventually notch an overtime win on opening night against the Tulane Green Wave.
"If I knew that playing on Thursday night would always end in a win and we could enjoy the weekend, we would do that all the time, because it's kind of nice to watch some ball games and wait for your opponent to play." Coach Blankenship said at his weekly press conference. "But it was obviously a fantastic finish for our players. Couldn't be happier for them to fight through and to be able to find a way to win at the end."
Despite the odds most decidedly not being in their favor, Coach Blankenship has confidence in his team going against the top-25 juggernaut that is the Oklahoma Sooners.
"Certainly we're getting ready for Oklahoma. Very prestigious program. A lot of tradition. We have great admiration. You don't grow up in Oklahoma and work here as long as I have in this state and not have great admiration for what they do and what they've done. It's a very good football team. They're certainly ranked high, but that ranking I think is well deserved if you watch how they play. "Blankenship said.
"They completely dominated the game last Saturday (against Louisiana Tech) and kind of impressive fashion. So we certainly look forward to the opportunity of getting them to come back to Chapman Stadium and get a chance to play at our place. I think the fact that it's an instate school adds to that dynamic. "
The game will be televised nationally on ABC on Saturday morning and that will give the University Of Tulsa a lot of good exposure to the rest of the country, and Blankenship knows what this means to his team and to TU as a whole. "I think it's a positive thing for us to play. I think we have to do our job on the field to make it a positive thing for a university in terms of a competitive standpoint." Blankenship said.
"But to have teams that come in and help us sell out the stadium and guarantee the buzz around town is a big deal. This needs to be a venue of destination when we have those kind of opponents, and I think that's what we seek to do with it."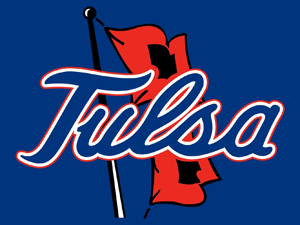 By and large the Golden Hurricane are coming into the matchup with the Sooners boasting a lot of positives after their double-overtime win over Tulane last week. They managed to spot the Green Wave three touchdowns and then rallying back in the final quarters to tie and secure the win in double overtime. That gives Blankenship's team a great deal of confidence going into this week.
Still the coach has one matchup beyond the X's and O's that he's taking into account.
"Probably me against Bob Stoops." Blankenship laughed, "Seriously, the matchups across the board, I spent more time looking at their defense. I think upfront they're very good. That makes it  you always start there. And then I haven't watched as much of their offense yet. I will spend more time on that as the week goes on. But I think the speed at receivers is certainly a concern."
"I'm just telling you, I'm looking for a group of players that will go out and compete. " Blankenship stated, "And we can't focus  if we focus on Oklahoma, then we step right into the trap that most people do when they play Oklahoma. We've got to be about Tulsa. And if we'll execute, offense, defense, special teams, we can make it very difficult on them."
Kickoff is slated for 11am on Saturday with the gates to the stadium opening at 9:30am. Parking near the stadium is going to be EXTREMELY scarce, and even though paid lots are available around H.A. Chapman Stadium, fans are encouraged to use the free parking shuttle service that will be running from the OSU-Tulsa Campus parking lot "A" at 700 North Greenwood. Shuttles will run every 15 minutes to the stadium from 8:00am until two hours after the game.