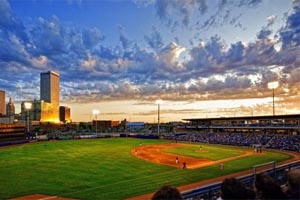 LITTLE ROCK, AR.—The Tulsa Drillers defeated the Arkansas Travelers 9-7 on Saturday night to clinch the opportunity to face the Midland Rockhounds for the Texas League Championship.
The win over the Travelers was a come from behind affair, as the Drillers blew a five-run advantage on Saturday before rallying with three runs late to win the game and the series, which was also a come from behind achievement. The Drillers dropped the opening game of the series with Arkansas before winning three straight to take the best-of-five series.
Second baseman Taylor Featherston was the hero of the game for Tulsa. The right-hander from Houston, recently honored as a Texas League post-seasons All-Star, opened the scoring for the Drillers with a solo homer in the top of the fourth inning and had a hand in eight of the Drillers nine runs scored in the game, including the eventual game winning run.
After consecutive three-run innings for the Travelers that evaporated Tulsa's five run cushion, Featherston, facing an 0-2 count, doubled down the right field line and outfielder Tyler Massey singled to bring him home and give the Drillers the 9-7 lead. Closer Cole White managed to recoup after a leadoff walk to retire the side and give Tulsa a trip to the big dance.
It is the first trip to the Championship series in 14 years for the Drillers, who last won the Texas League Championship in 1998. The team guaranteed themselves a trip to the TL post-season by winning the first half of the season in June.
Since the Drillers became a franchise in 1977 the team has claimed the Texas League pennant three times, 1982, 1988 and 1998. Tulsa is a favorite going into the game with Midland as they won nine of the 12 meetings between the two clubs in 2014.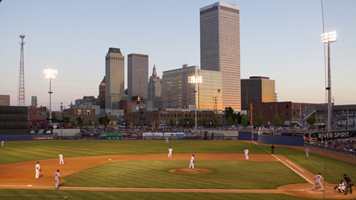 The series will start this week with two games at ONEOK Field on Tuesday and Wednesday nights with the first pitch taking place at 7:05pm each night. RHP Eddie Butler (6-9, 3.58 ERA in the regular season) is the probable starter for the Drillers.
Then Tulsa heads to Midland for three straight games.