Tulsa Cancer Institute hired the architectural firm Gensler to design and Flintco to build their new treatment center with the goal to meet LEED certification (Leadership in Energy and Environmental Design) a certification program that recognizes the best eco-friendly building practices. Tulsa Cancer Institute's LEED certification application has been in the review process since they moved in during the summer of 2013, but is now approved, making the building LEED certified.
Sustainable features include bicycle storage and changing rooms for staff and visitors, roofing materials that act as a high solar reflective index to minimize heat and native vegetation surrounding the building which equals half of the project site. Additional sustainable features include 22 percent of the building materials were manufactured using recycled materials, and 20 percent of the materials were manufactured within 500 miles of the project site.
Terrell Hoagland, manager of sustainable projects for Flintco says, "Our team managed the construction credits and used our expertise from previous LEED projects to achieve 16 points for Tulsa Cancer Institute. Flintco worked diligently with local waste haulers to recycle 82 percent of all construction waste generated onsite."
Approximately 35 percent of the 85,600-square-foot building's electricity comes from renewable energy sources. The facility's landscaping and irrigation systems have been designed to reduce potable water consumption for irrigation by 67 percent from an allowable baseline.
"It was very important to us, for both the community and the environment, that we achieved LEED status. The process of achieving this designation was a lot of work but it was absolutely worth it. As one of the few LEED certified healthcare facilities in the country, we feel this is just one more point that differentiates us from our peers," said Michael Yates, chief financial officer at Tulsa Cancer Institute.
Hoagland says "by achieving this nationally recognized certification, Tulsa Cancer Institute has demonstrated progressive leadership in the community and helped raise the bar in Tulsa for buildings of this type."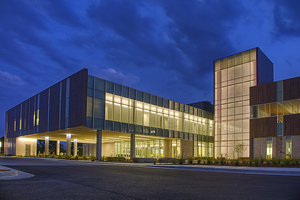 The Tulsa Cancer Institute, founded in 1972, has the largest team of cancer experts in Oklahoma with over 20 cancer specialists and more than 100 nurses and associates in northeastern Oklahoma. Tulsa Cancer Institute provides complete cancer care: radiation, chemotherapy, clinical trials, in-house lab and on-site pharmacy. Tulsa Cancer Institute also has cancer
treatment centers in Stillwater, Bartlesville and McAlester. To find out more please visit www.tciok.org or www.facebook.com/tulsacancerinstitute.
Gensler is a global design firm that partners with clients to make cities more livable, work smarter and leisure more engaging. With over 4,500 professionals networked across 46 locations they believe quality design can transform organizations and improve people's lives. Since 1965, Gensler has helped clients achieve measurable business and organizational goals. Some of Gensler's clients include: 6 of the world's 10 largest retail companies and 43 of the 50 biggest U.S. companies by market value. Gensler boasts some of the most innovative sustainable designs around the world. For more information go to www.gensler.com.
Flintco was founded in 1908 in Tulsa, Okla. and has grown into one of the largest commercial contractors in the nation. Flintco's operating divisions provide a full range of services, including preconstruction, construction management, design-build, project and program management, as well as general contracting from seven offices in: Albuquerque, N.M.; Austin, Tex.; Memphis, Tenn.; Oklahoma City, Okla.; Springdale, Ark.; and two offices in Tulsa, Okla. With a well-deserved reputation as a provider of constructive solutions, Flintco is consistently selected as the contractor of choice. For more information, visit www.flintco.com or www.twitter.com/flintco.