Updated: The attention of the world is focused on tragedy in Moore, Oklahoma as a enraged food processing employee, immediately after termination, rushed directly from the company's human resources office to the warehouse to attack fellow workers.
Alton Alexander Nolen, 30 yr. old ex-convict, police say, was taking vengeance. Most troubling is Nolen's public conversion and passion for radical Islam. Nolen was fired, in part, for arguing on the job that stoning "wayward" women was proper in a civil, moral, modern society.  In the latest update, Nolen's mother apologized to the families of the two victims by video posted on Facebook.
The Oklahoman reports:
The man on the 911 call spoke in an urgent voice, the terror still unfolding around him.
"Shut the door. Shut the door," the man can be heard saying.
"What is your emergency?" the dispatcher asks.
"We have someone attacking someone in the building," the man says.
It was 4:05 Thursday, a sunny and warm fall afternoon.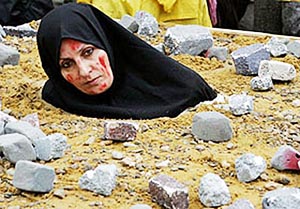 Nolen stormed out of the human resources office, located in a separate building on the southeast side of the property, got in his car and drove the short distance to the processing plant's main warehouse building, striking another vehicle along the way, police said. He entered the warehouse.
There he encountered Colleen Hufford, a 54-year-old grandmother, who last year lost her home in the May 20 Moore tornado. A family friend said Hufford had worked in the office at Vaughan Foods for about five years.
"She was a very kind, forgiving person. Friendly. Little shy, but once she got to know you, she'd talk your leg off," said family friend Joe Weinzetl.
Nolen, described by authorities as a practicing Muslim who had recently been trying to convert co-workers, stabbed Hufford and then beheaded her. He used a knife that police said he may have used at his job cutting lettuce and vegetables.

Click here for more from The Oklahoman.
Mark Vaughan, the company's chief operating officer, when told Nolen was out of control, retrieved a rifle from his vehicle and following procedures he learned as a reserve deputy sheriff, confronted Nolen then shot and wounded him.  Authorities told The Oklahoman that "Vaughan's quick actions saved" lives.
One victim survives as does Nolen.
Update: As reported by the Oklahoman a video has been posted on Facebook by the mother of beheading suspect Alton Nolen in which she apologizes to the families of the two victims. Joyce Nolen, of Idabel, said her son was a good kid, but does not explain his recent conversion of faith.