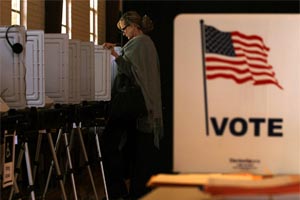 Election results looked nothing like the polls — what gives?  Fox News suggest that while midterm elections were supposed to be nail-biters, from Sen. Mitch McConnell's re-election race in Kentucky to veteran Sen. Pat Roberts' battle in Kansas. The too-close-to-call refrain was expected to be heard throughout the night.
Instead, when the dust settled, Republicans rumbled to one of their biggest victories in decades.
How could so many polls get so many races so wrong?

"I want an investigation of the polls in Virginia," University of Virginia political scientist Larry Sabato told Fox News. "They were completely wrong, just as they were in Georgia. They were also way off in Illinois. And I could go on and on."
Virginia played host to one of the biggest surprises of the night, for anyone who had been basing their election predictions on the polls. In the same state where pollsters failed to predict then-House Majority Leader Eric Cantor's loss to economics professor Dave Brat in the primaries, they also misjudged the race between incumbent Democratic Sen. Mark Warner and Republican Ed Gillespie.
Many polls had Warner with a double-digit lead over Gillespie. Warner is currently clinging to a 1-point lead, with the ballot count ongoing.
It's not just that candidates thought to be dark horses ended up winning, or coming close. A flood of polls also showed several races to be tight in the closing weeks — but on election night, Republicans soundly defeated Democrats in those contests. Exhibit A is the race between Senate GOP Leader Mitch McConnell and Democrat Alison Lundergan Grimes in Kentucky. Polls showed Grimes within single digits — one even showed her within a point — of McConnell. The powerful senator ended up winning by 15 points.