TULSA, OK—The Tulsa Revolution hosted the Wichita B-52s on Saturday night in the hopes of reversing their fortunes after a 14-5 shellacking at the hands of the Dallas Sidekicks last Saturday. The score was less, but the impact the same as the B-52 scored early and often to hand the Revs an 8-4 loss.
The B-52s had four goals on the board from Travis Pittman, Kevin Jackson, Alex Moseley and Matt Clare and were working a shutout until the 29th minute of the first half, when the Tulsa's Nick McDonald finally solved Wichita goalie Chris Penner to finally put the home team on the board.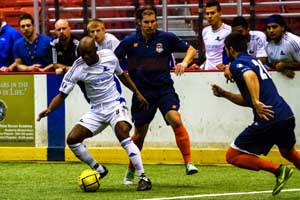 McDonald's goal would spark the anemic Tulsa offense to a minor degree and they would pull to within a goal in the third quarter. Mohammed Shaban and Sam Guernsey scored within three minutes of each other to pull the game to 4-3, which would be the Revolution's closest approach to the B-52s all night.
Whatever hopes that the Revs had to overcome the Wichita advantage came to an end in the fourth quarter as Clare would score two more goals and Tico Rodriguez added another to push the B-52s total to eight, and though Lucas Bunster Almeida would score Tulsa's fourth goal it failed to generate anything more from the home team and the game with the Revolution on the losing end for the second straight week.
More bad news for Tulsa: in the second quarter of the game starting goalie Richard Nolasco left the game with a hyper-extended right elbow.  At the time of his departure he had made seven saves on ten shots and had three goals against.  His status for next week's game against the Missouri Comets has not been determined.  Habib Zaylaa replaced Nolasco in the fifth minute of the second quarter and rode out the rest of the game, making four stops on nine shots and was scored on five times.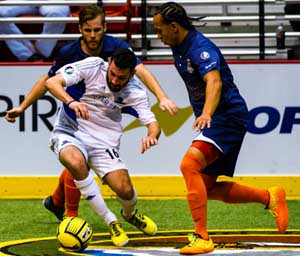 The Revolution fall to 1-3 on the season while the B-52s improve to 2-4.  One thing is certain, head coach Dave Yates must stop the bleeding soon otherwise the Revolution are doomed to have another lopsided season much like last season, where they ended 2-14 .  There are former MISL teams upcoming on the Revs schedule and they will punish them if they get behind early in the game as they did against Wichita on Saturday.
The Revolution will host the Missouri Comets next Saturday, December 6th at 7:05pm in the Cox Business Center Arena.
Photos by Les Stockton.