TULSA, Okla.—Two Tribal Special Assistant U.S. Attorneys, one each from the Osage Nation and Cherokee Nation, were sworn-in at an investiture ceremony Wednesday and will assist with improving public safety in tribal communities, announced Danny C. Williams Sr., United States Attorney for the Northern District.
"Indian Country is a significant priority and my office is committed to building and sustaining safe tribal communities in the Northern District," said U.S. Attorney Williams. "The Tribal SAUSAs will assist in key prosecution areas which derive from federal jurisdiction over crimes occurring in Indian land to include drug trafficking, sexual abuse, and violence against women."

Jeff Jones is the Attorney General of the Osage Nation and Sarah Hill is the Deputy Attorney General of the Cherokee Nation. Jones and Hill will work alongside Assistant U.S. Attorneys in the Northern District's Indian Country Prosecution Unit.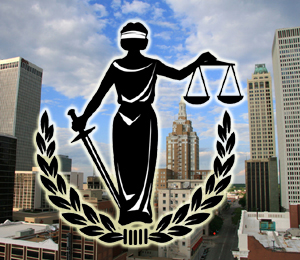 The United States Constitution, treaties, federal statutes, executive orders, and court decisions establish and define the unique legal and political relationship that exists between the United States and Indian tribes. Federal laws vest the Department of Justice with primary jurisdiction over most felonies that occur on Indian lands in most states. There are thirteen federally recognized tribes in the Northern District of Oklahoma.