Updated: Two or three masked men shouting "we have avenged the prophet" and "God is greatest" between rounds of heavy gunfire shot dead twelve people at the headquarters of the French satirical magazine Charlie Hebdo in Paris, say police.
The masked gunmen are reported to have stormed the offices which have been attacked previously over its portrayal of the Prophet Mohammed.

They are believed to have been armed with Kalashnikov rifles and a rocket-propelled grenade. A manhunt is under way for the gunmen, who escaped after a shootout in the street with police.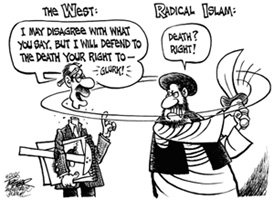 It is reported both the editor and lead cartoonist were among those killed. Some reports note that the gunmen called out names of employees they wanted to kill.
Two police officers are also believed dead, while four additional people have been critically injured. Shocking footage has emerged of a wounded police officer being shot in the head as he lies on the ground, holding his hands up.
The killers then calmly return to their getaway car, which was later found abandoned.
Click here for the main story from Sky News.
Click here for live updates from Sky News.
UPDATE: A statement was issued by the Oklahoma Chapter of the Council of American Islamic Relations (CAIR-OK) on the Paris attack to local media.
CAIR-OK's active public relations efforts are frequently advanced by the public relations firm of Schnake Turnbo Frank with offices in Tulsa and Oklahoma City, but in this case references CAIR National Executive Director Nihad Awad. The release says in part: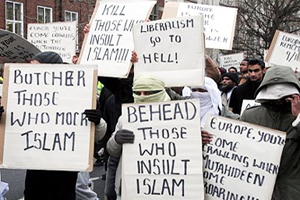 "We strongly condemn this brutal and cowardly attack and reiterate our repudiation of any such assault on freedom of speech, even speech that mocks faiths and religious figures. The proper response to such attacks on the freedoms we hold dear is not to vilify any faith, but instead to marginalize extremists of all backgrounds who seek to stifle freedom and to create or widen societal divisions.
 
"We offer sincere condolences to the families and loved ones of those killed or injured in this attack. We also call for the swift apprehension of the perpetrators, who should be punished to the full extent of the law."
France's Muslim leaders have similarly condemned the attack as "barbaric." "This extremely grave barbaric action is also an attack against democracy and the freedom of the press," said the French Muslim Council (CFCM) in a statement.
Senator James Lankford, Oklahoma Republican and member of the Senate's homeland security and intelligence committees, is quoted on a cable network morning show saying the shooting is an attack on a basic right.
"If you're attacking a satirical newspaper that's an attack on free speech," Sen. Lankford said.
U.S. Sen. Jim Inhofe (R-Okla.), senior member of the Senate Armed Services Committee, also released the following statement regarding the attack of the "Charlie Hebdo Weekly" Paris offices this morning:
"The victims and their families of the terrorist attack in Paris today are in my thoughts and prayers. America stands with those who lost loved ones and with the country of France and all our allies on this issue of terrorism. This attack proves that we are facing an increasingly dangerous world, where oppressive and violent terrorists groups are more organized, better funded and more radical than what we were seeing more than a decade ago. I do not believe this attack is an isolated incident and unfortunately, I believe these types of attacks will continue if we do not recognize the vulnerability of not having a strategy for addressing regional and global terrorism.
"Terrorists, and specifically radical Muslim extremists, are at war with the West and the U.S. Unfortunately, this Administration has tragically treated these post-911 attacks like isolated police actions and believe releasing terrorists being detained by the U.S. will somehow increase our security. The terrorists see the U.S. retreating from the world and they see a president unwilling to be a world leader.
"To protect this nation, first and foremost the President needs to lay out a national security strategy, which he has failed to do in recent years, and end sequestration so that we can provide the necessary resources to achieve that strategy.  The United States must redouble its efforts to ensure our Embassies and our borders are protected and secured through fully supporting our military and law enforcement authorities. Finally, we must work with our allies to prevent future attacks and protect our homeland."