OKMULGEE, Okla. – Muscogee (Creek) Nation citizens elected a new second chief Jan. 10 in a special election runoff as tribal employee Louis Hicks defeated his opponent, former principal chief A.D. Ellis, according to unofficial results released by the MCN Election Board.
Hicks received 65 percent of the vote with 2,010 votes, while Ellis garnered 1,070 votes. Hicks won a majority in all 18 voting precincts, as well as the absentee ballots.
The results will not be made official until after the election is certified by the election board (per constitutional mandate) on Friday, Jan. 16 at 5 p.m.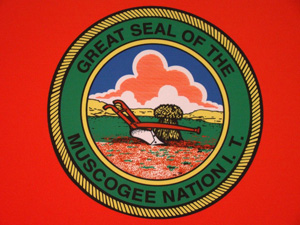 More Muscogee (Creek) citizens cast their votes in the general election than in the primary election on Dec. 13.  In a statement from Principal Chief George Tiger, he mentioned, "While the overall percentages are somewhat less than desired, I am happy that the general election drew the attention of additional voters, more so than the primary election.  We hope that trend continues.  The citizens have spoken and indicated support for the continued progressive direction of this administration."
Hicks, 64, has stated that his goal is to be open-minded with Muscogee (Creek) citizens and to "diligently listen and act upon their concerns" to his limitations. He said he will follow the constitution of the great Muscogee Nation and to, the best of his ability, be assertive with whatever authority is given to him by the chief or National Council.
Hicks will fulfill the remainder of the second chief's term, which is up for election in November. A swearing-in ceremony is to be announced after the election is certified.
The unofficial results can be viewed by clicking here.