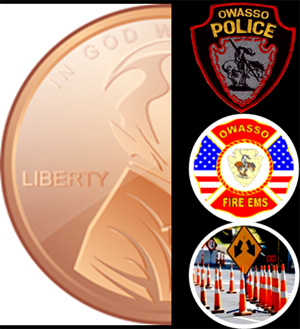 By Oklahoma law, municipalities are funded from sales tax while the 77 counties within the state are funded by property tax. For a growing small city like Owasso, the revenue stream doesn't always keep up with the cost of delivery of police, fire and street services – especially if that tax is below average.
Update: Tuesday (76.2 percent) of the 2,111 voters who cast ballots approved the measure.
Owasso citizens voted to increase the sales tax for the City from 3 percent to 3.5 percent which, including all sales taxes, will raise the total rate to 8.917 percent. By comparison, city officials note, Claremore at 9.333 percent and Sapulpa at 9.5 percent would be higher, but Tulsa at 8.517 percent, Broken Arrow and Jenks both at 8.417 percent would be lower.
City officials note that as Owasso has grown, thousands of nonresidents descend daily to take advantage of retail shopping, eateries, and entertainment and this tax would allow those visitors to fund necessary city services.
The half-cent tax is specific in funding a permanent dedicated revenue stream for police (35 percent), firefighters/Emergency Medical Services (35 percent) and streets (30 percent).
In media interviews, City Manager Warren Lehr notes that "People are coming in from all over to Owasso…they increase activity and costs for police, emergency services and wear and tear on streets. This is the fairest proposal possible" to fund those required services.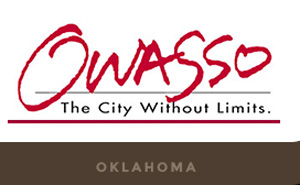 Lehr hosted more than 20 meetings throughout Owasso to discuss a 1/2 penny sales tax ballot proposal and information on the vote is available online at www.CityOfOwasso.com and linked below.
Voter Information:
Tulsa County Election Board
Rogers County Election Board
Oklahoma State Election Board
Find your polling place (Check your county election board to confirm any changes)
Owasso Chamber of Commerce Statement of Support
Half Penny Frequently Asked Questions
City Connection Online Magazine – Election Information
Resolution calling for an election and ballot language
Ordinance defining purpose of new revenue
Resolution regarding removal of $3 public safety fee for utility customers