The 6th season of the Tulsa Shock WNBA team is fast approaching and head coach Fred Williams is hard at work assembling his team.  Williams is looking to improve upon a 12-21 first year record and he made two crucial steps in building a winning team with the signings of fan favorite (and OU graduate) Courtney Paris and Plenette Pierson.
Courtney Paris, who was signed to a free agent contract in 2014, was signed to a multi-year deal on February 2nd. After finishing the 2014 season ranked first in in the league, Paris was named the winner of the WNBA Peak Performer Award for Rebounds. Paris had a total of 347 rebounds, which ranks second in Shock history of most rebounds in a single-season.  Paris scored in double-figures in 17 games and had 13 double-doubles. Paris also shot 57.4 percent from the field, which is the highest field goal percentage in a single-season in Shock history.
"Oklahoma has felt like home since my sister and I arrived in Norman back in 2005," said Paris, "To have the opportunity to stay in Tulsa and continue my basketball career for the next few years couldn't have worked out any better. I believe in the direction of the franchise and I am eager and ready for the opportunity to help it continue to grow. I feel like with the young talent on the team the future is bright in Tulsa and I'm excited to be a part of it."
Coach Williams was very complimentary of Paris, who started in all 34 games, averaging a career-high 9.2 points per game and a career-high 10.2 rebounds per game last season.
"Courtney has seen tremendous improvement each year that she has been in the league," said Fred Williams, Head Coach of the Tulsa Shock. "Last season gave her great opportunities for minutes played and she responded by being the leading rebounder in the WNBA. Courtney is a team player and continues to be one of our veteran leaders for the Shock. She is a hard worker and has a great basketball IQ."
Plenette Pierson, who was one of four players who moved with the team from Detroit in 2010, will rejoin the Shock when play begins this spring.  The Shock traded Pierson to New York in exchange for forward Tiffany Jackson-Jones in 2010. Pierson appeared in 33 games last season for the Liberty, averaging 7.2 points and 3.1 rebounds per game.
"We are excited to have Plenette come back to Tulsa and wear a Shock uniform," said Steve Swetoha, President of the Tulsa Shock. "Plenette's leadership on and off the floor will be a great addition for our young team."
Pierson won two WNBA Championships (2006, 2008) when the Shock was in Detroit. Pierson was also named the WNBA Sixth Woman of the Year in 2007. An eleven-year veteran, Pierson's career averages are 9.6 points per game and 4.3 rebounds per game.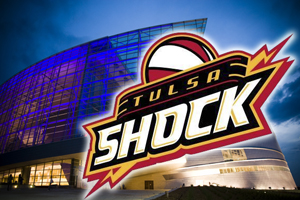 "Plenette is a player that will always give you 110 percent on the court," said Fred Williams, Head Coach of the Tulsa Shock. "She has championship experience that will be extremely valuable for us. She is a proven winner in the WNBA and we are excited to have her back in Tulsa."
The Shock will begin their sixth season in Tulsa this spring.  Season tickets and other information can be obtained by clicking here for wnba.com/shock.