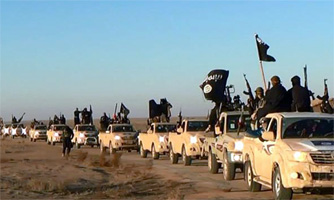 In a revealing message from ISIS, women are instructed that beauty salons are condemned as the devil's work and child marriage is encouraged in the recruitment document on jihadist forums.
Women should "remain hidden and veiled", only leaving their homes in exceptional circumstances, according to an Islamic State manifesto intended as a recruitment tool.
According to Sky News, the document includes a curriculum for teaching young girls how to be homemakers and mothers who are "sedentary, still and stable" – and condemns the notion of gender equality.
It also criticizes the West's obsession with studying "the brain cells of crows, grains of sand and fish arteries", and suggests such educational pursuits are a distraction from worshiping God, which is "the only reason for their existence".
Circulated widely on jihadist forums, the text was apparently released in an attempt to recruit women living in Saudi Arabia. "Woman was created to populate the Earth just as man was," one passage reads. "But, as God wanted it to be, she was made from Adam and for Adam. Beyond this, her creator ruled there was no responsibility greater for her than that of being a wife to her husband."
"It is considered legitimate for a girl to be married at the age of nine," the text adds. "Most pure girls will be married by 16 or 17, while they are still young and active."
In another section, ISIS authors state: "Women gain nothing from the idea of their equality with men apart from thorns.
Click here for the full report with video from Sky News.
In a recent posting on his own news site, Glenn Beck headlined, "World needs to see the depravity of ISIS"
Beck wrote on the recent video of ISIS burning a Jordanian Pilot alive:
We have been lured into a poppy field where we have fallen fast asleep as grave danger quickly approaches.
It is time to wake up. This is the enemy of all mankind. Make no mistake, this is a global jihad and it has everything to do with "their" religion and their fundamental interpretation of the Koran.
Jews, gentiles, straight, gay, black, white, western, eastern, atheist, Christian or Muslim — it is time you recognize what you are up against, look it square in the eye and call it by its name: evil and a plague on mankind.
Warning the following video produced by ISIS contains graphic violence, death and evil. To know how evil, the burning begins at the 18:00 minute mark.