WASHINGTON, D.C. – The Republican Governors Public Policy Committee (RGPPC) announced today that Governor Mary Fallin will serve as its Chair for 2015.
"Governor Fallin is a natural choice for this leadership position. On energy, jobs, the budget, and more, she is putting sound, conservative policy to work in Oklahoma," said RGA Chairman Bill Haslam. "Oklahoma turned a corner since she was elected; it is growing and thriving, and its future is more secure because of her commitment to good governance. Governor Fallin's leadership has made a hugely positive impact on her state, and her insight will be a tremendous asset to the RGA's policy efforts in the coming year."
"I am proud of what we are doing in Oklahoma, and I am proud of what Republican governors are doing all across this country: taking action, enacting reforms and achieving results to move their states forward," said Governor Fallin. "When Washington is faced with a problem, it shuts down. But when states are faced with problems, Republican governors step up, putting in place the creative, innovative solutions required to ensure government works for the taxpayers, just the way it should. I am honored to serve as RGPPC Chair and work to give states the flexibility and independence they need to successfully solve problems and deliver results."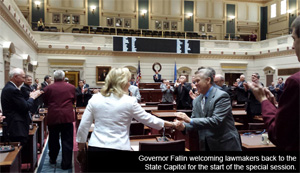 The Republican Governors Public Policy Committee (RGPPC) is the policy arm of the Republican Governors Association (RGA) and the official policy organization of the nation's Republican governors. With a strong majority of 31 governors, the RGPPC works to impact public policy on both the state and national levels.
Since taking office in 2011, Governor Fallin has worked tirelessly to revive economic growth and vitality in Oklahoma. Today, Oklahoma has one of the lowest unemployment rates in the country. During her first term in office, the state's median household income grew at twice the national average and in 2013 Oklahoma had the fourth fastest growing domestic product in the nation.