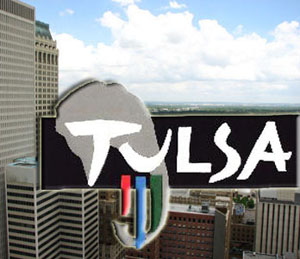 Analysis: With all the quarrelsome drama and subplots of a Hollywood blockbuster, but at glacier speed; Tulsa County Republicans elected six officials to leadership in eight hours of voting. These contests in America's most conservative state reflect national battles as Republican Activists face off with Party Builders to begin the drive to recapture the White House in 2016.
"By less than one vote, Tulsa County Republicans on Saturday chose Glenpool's Mike Ford to head their party for the next two years. Ford defeated Ronda Vuillemont-Smith 303.9-303.1 on the second ballot at the Jenks Performing Arts Center. The fractional votes were caused by a proportional voting system that gives more weight to precincts with higher Republican turnout," the Tulsa World reported (click here for more).
To her great credit after the second ballot, Vuillemont-Smith quickly took a microphone to quash further dispute declaring; "I will work with Mike Ford to move this party forward." Vuillemont-Smith leads the Tulsa 912 Project, a grass-roots activist organization.
Beginning with precinct meetings, Republicans rebirth the party each election cycle and those Tulsans participating decided in majority to grow participation. This does not mean they are any less conservative or cronies of any political sub-segment, but as Ronald Reagan once said, "If we can agree on 70 percent of the issues, we are good."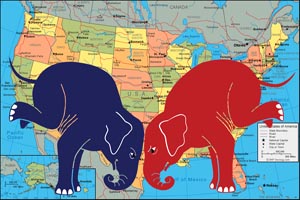 Advocates push. They argue. They demonstrate and demand attention for whatever policy position they are pushing to win at any given moment. While this is proper and welcomed activity within political parties; aggressive behavior can drive people away and reduce participation if advocates hold party positions. It tends to alienate potential contributors and volunteers critical to election success.
Activists also aggressively engage in party primaries where elected party officials are forbidden to show favoritism and, even worse, if activist candidates lose in a primary they are less likely to stay the party course in supporting less activist (sometimes called moderate, but more accurately Traditional Republican) candidates.
One winning party office in Tulsa County was offended when his opponent's supporters claimed moderates supported him. He has been a Conservative Republican longer than some "Libertarian Republican Activists" have been alive and will tell anyone who may ask about that experience in detail.
In summary, these party elections in Tulsa were won by the quality of the candidates' broad party appeal, accomplishments and obvious experience. The Leadership Team nicknamed the "Dream Team" held an open, heavily promoted event which provided opportunity for delegates to meet and question those for each position in advance of the convention.
Thus with all races decided, the following individuals will lead the Tulsa County Republican Party for the next two years.
Mike Ford, Chairman
Accomplishments include organizing Governor Mike Huckabee's Presidential efforts in northeast Oklahoma in 2008, where Mike Ford led a grassroots army of over 400 volunteers, winning Oklahoma's 1st and 2nd Districts. Since that time Ford has worked on many conservative campaigns most notably as one of the key architects behind U.S. Congressman Jim Bridenstine's surprising victory in 2012. In 2008, Ford served as a volunteer organizer during the OKGOP Victory GOTV (Get Out The Vote) Program. From 2009-2011, he was appointed as South Tulsa Zone Chairman. There, Ford coordinated half of Tulsa's active Precinct Chairmen (appx 80), managed 6 House District Chairmen, started 4 new monthly clubs in Tulsa (including Bixby and Jenks Republican Clubs), and co-authored the Tulsa GOP Precinct Chairman's Handbook. Recently, Ford served as the OKGOP First District Field Representative, coordinating the Tulsa Phone Bank and volunteers during the historic 2014 election in which the OKGOP won over 70 percent of races statewide—including the reelection of Governor Mary Fallin and Senator Jim Inhofe, as well as the elections of new U.S. Senator James Lankford and State Superintendent Joy Hoffmeister. Ford has been a member of the Tulsa GOP County Executive Committee since 2008 – appointed to serve by the last 4 Tulsa County Chairmen.
Joanne Tyree, Vice Chairman
Joanne Tyree is a second generation American and an Army brat – her father served in the 82nd Airborne. In addition to serving as an elected volunteer of the Tulsa County Republican Party, Tyree volunteers at the Tulsa Police Department, Youth for Christ, and as an English tutor with TCCL. She also deploys as a disaster responder with OKMRC and Southern Baptist Disaster Relief. Tyreer graduated with a B.S. Degree in Education from the University of Memphis and has been active in the Republican Party, Eagle Forum, and grassroots efforts. Her busy home school family with three young sons spent much time working for campaigns, registering & educating voters, and visiting the Capitol. The kids thought it normal to spend free time working for candidates and attending Republican county conventions!
George Wiland, State Committeeman
Personally registering over 20,000 voters over the past 30 years as a Deputy Voter Registrar with the Tulsa County Election Board; Wiland enjoys a 20+ year rapport with Tulsa Area Churches. Wiland attends a different church every Sunday to register new voters. In 2012 Wiland was awarded at the Oklahoma State Republican Party Banquet the state "PARTY BUILDER" by then State Chairman, Matt Pinnell. He is active with the Tulsa Full Gospel Businessmen and many area Republican Clubs.
Cheryl Baber, State Committeewoman
Native Oklahoman and resident of Tulsa County for more than 20 years, Cheryl Baber holds a law degree, a graduate in international history and politics, and a bachelor's in political science and economics. Her role as an attorney in the federal government and in private practice allowed her to be involved in a wide variety of civic and church activities, but prevented her from being involved in Republican party politics and conservative causes until recently. Motivated by the 2012 Presidential election, she has become very active in Republican campaigns and conservative causes at the local, state, and national level.
Donny Tiemann, District Committeeman
Chairman of precinct 133 for over 8 years and involved in many campaigns as a volunteer Donny Tiemann is very passionate and outspoken on God given rights and how far the Constitution allows the government to intrude in our lives. Married to Brenda (President of RWC of Tulsa County) for over 28 years, the Tiemanns have 6 children, 14 grandchildren and 6 great grandchildren. A son and two grandsons served in Iraq and Afghanistan. They are members of the Church of St Mary. Tiemann has worked in the oil & gas industry for 15 years as a Purchasing Manager. Tiemann attended Texas A & M University and majored in Accounting and Agricultural Economics – the oldest son in a family of 10.
Jennifer Ballew, District Committeewoman
A proud mother of two sons and Director at Bright Beginnings Early Learning Center in Glenpool Conservative Republican Jennifer Ballew earned her Bachelor's from St. Gregory's University and was appointed last year as Councilwoman, Glenpool City Council. This year, no opponent filed and Ballew will serve for the next four years. She is also the Glenpool Chamber's Government Relations Chairman.
In total, these newly elected Tulsa County Party officials hold over 100 years of combined experience serving the Republican Party. Convention campaign material headlined in direct appeal to the Republicans of Tulsa County:
"You and I have a rendezvous with destiny. We will preserve for our children this, the last best hope of man on earth, or we will sentence them to take the first step into a thousand years of darkness. If we fail, at least let our children and our children's children say of us we justified our brief moment here. We did all that could be done."  — Ronald Reagan