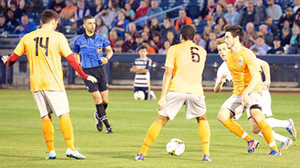 TULSA, OK—Professional outdoor soccer has come to downtown Tulsa.
The Tulsa Roughnecks FC played their first match under the lights of ONEOK Field in in front of 3,273 in an exhibition or "friendly" match against Saint Louis FC on Saturday night unofficially opening the run of the United Soccer League in the Oil Capitol of the World.

Adam Black scored the first goal in ONEOK Field history when he slammed home a crossing pass from Lucas Cordeiro and into the St. Louis net in the game's first half (40th minute) to give the home side a lead that they would maintain until the game's 76th minute when St. Louis FC forward Jermie Lynch capitalized on a fat rebound given up by Roughnecks goalkeeper Zac Lubin and shot it past him. Prior to giving up the goal Lubin made three outstanding saves before Lynch beat him on the fourth shot
Lynch then won the game for the visitors when he broke past the Roughnecks defenders and tucked the ball inside the post from about 12-yards out in the first minute of a three minute "stoppage time" period added on for the various stoppages incurred in the second half.
The two teams combined for 33 shots in the entertaining contest, with 17 coming from the Roughnecks.  Lubin was credited with seven saves while Saint Louis FC keeper had six.
With the loss to St. Louis the Roughnecks finished the preseason with a record of 2-1, which included a 2-1 win last week against the University of Tulsa Golden Hurricanes men's team and a 2-0 victory over the Saint Louis just seven days ago.
Saturday's friendly match was a good technical rehearsal not only for the players on the pitch but for the staff at ONEOK Field, because in one week the games for the Roughnecks start counting in the USL PRO League and it will being against the ready-made rivals down the turnpike, the Oklahoma City Energy FC.
Tickets for the home opener with Oklahoma City and the rest of the Roughnecks home schedule are on sale at ONEOK Field.  Or on the team website at tulsaroughnecksfc.com