OKLAHOMA CITY – The 2015 Oklahoma Democratic Convention was held Saturday (March 30) at Oklahoma City Community College in southwest Oklahoma City.
More than 500 Democrats from across the state attended.
The election of new officers is always a highlight of the Democratic event. A spirited race took place between Vice-chair Dana Orwig of Oklahoma City and Attorney Mark Hammons of Yukon. In a vote of 306-216, Hammons was elected as the new Party Chairman.

Connie Johnson, former State Senator for District 48 in Oklahoma City, was named the new Party Vice-chair despite a last minute challenge from Laurie Phillips of Tulsa; the vote was 322-198.
Also selected individually to serve on the State Central Committee as Affirmative Action members were: Earl Mitchell of Stillwater, Victor Gorin of Oklahoma City, Teresa Hill of Oklahoma City, and Giovanni Perry also of Oklahoma City.
Outgoing Chair, Wallace Collins had chosen to not run for a third term, opening the door for a new Chair to lead the party.
Collins extended congratulations to Hammons, and wished him and the new officers well. Collins said he hopes the new officers will continue the work of the last four years and build on the strong foundation that has been laid. He also congratulated Dana Orwig for a race well run, and thanked her for her four years of dedication and service to the Oklahoma Democratic Party as Vice-chair.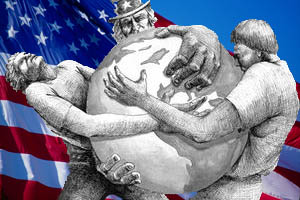 The convention was recessed to a date to be set by new state Chair Hammons to vote on the now combined resolution/bylaws change to include Independents in Democratic Party Primaries and to vote on all other resolutions and bylaws changes that weren't resolved on Saturday.
Emeritus Professor Tom Guild, twice the party's nominee for the Fifth District congressional seat, developed the primary proposal to expand voter participation in the nomination process and give Independents an incentive to work within the Democratic party.
Click here for the original posting on www.CapitalBeatOk.com.
Click here for a previous story by CapitalBeatOk on the Carl Albert Dinner.