In the course of Human Events… something always happens in Oklahoma.
Incumbent Mary Fallin won re-election over an affable and determined opponent, Joe Dorman. But the performers playing the partisan pair (portrayed, respectively, by Cynthia Reich and "the Eggman") get together for an entertaining duet during the annual Gridiron Show, a roast of national, state and local politics, politicians and culture.

Oklahoma's longest-serving member of Congress, James Inhofe, gets his share of poking and proding from the Gridiron script-writers. As portrayed by University of Central Oklahoma Prof. Terry Clark, Inhofe is a court jester in Washington, D.C..
And, Alex Zable returns with his humorous interpretation of President Barack Obama, rebuffing conservative criticisms as he pushes his brand of progressive politics.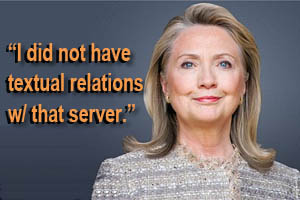 The incomparable Billy Rodely plays Hillary Clinton, to good effect – her song of longing about presidential ambitions brings a grin combined with contemplation of a moment in history. And, then there's that computer pillar containing a famous hard drive which the former first lady hauls around on stage.
Bill Perry, also the show producer, brings customary authority to his role as Bill Clinton, but goes beyond the call of duty to play "Mr. Voter" – the voice of observant Oklahomans.
A cast of two dozen will regale the crowds with good humor, good (mostly) music and strong support from the capable Gridiron band.
The OKC Gridiron Club's annual political satire show, has moved to UCO's Mitchell Hall in Edmond June 4-5-6. The show, where members of the club take on roles of national, state and local politicians and other personalities, is the club's main fundraiser for journalism scholarships.
The Gridiron consists of (relatively hard) working and retired journalists and their associates.
Tickets are available now. To purchase tickets, or for more information about the OKC Gridiron Club, visit the web site okcgridiron.org. Tickets by phone are available through TicketStorm: 866-966-1777 FREE.
However, there are plenty of seats available for walk-up business – Please plan to arrive about 7 p.m. (30 minutes before curtain).
EDITOR NOTE: Publius is the "nom de plume" of a writer who annually previews the Oklahoma City Gridiron Show. This article first appeared and a full review will soon appear online at www.city-sentinel and CapitolBeatOK.com. Tulsa Today publishes Publius because he is a frequent drinking friend and the OKC Gridiron is the best annual political satirical show in Oklahoma. (Yes, there is one in Tulsa far to the Left on Karl Marx Boulevard.)
Top Photo: Terry Clark, a University of Central Oklahoma Journalism Professor, pokes fun at U.S. Sen. Jim Inhofe, R-Tulsa, in the 2015 Gridiron Show at the University of Central Oklahoma's Mitchell Hall. Photo by Susan Henry Clark.