SEATTLE, WA—Bouncing back from a hard defeat at home is never easy, but the Tulsa Roughnecks managed to do exactly that as the handed the Seattle Sounders a 5-1 defeat at home on Friday night.
The Roughnecks Adam Black turned in a "brace" (two goals in soccer-speak) and Kidd Nwabueze, Lucas Cordeiro and former Sounder Sammy Ochoa.
Black opened the scoring in just the 10th minute.
The Oklahoma City University product buried a left-footed shot from the top of the box to give the Roughnecks an early 1-0 lead. It was Black's first-ever USL goal. Pablo Rossi answered for S2 in the 23rd minute when he was left unmarked in front of Tulsa goalkeeper Zac Lubin's goal, but Black struck again 11 minutes later. Another left-footed effort from almost the exact same spot as his first goal put Tulsa in front to stay.
Five minutes before halftime, Lucas Cordeiro finished from close range to give Roughnecks FC a 3-1 lead at the interval. The Roughnecks put the game away in the 78th minute when a cross from Cordeiro found an open Kidd Nwabueze in front of goal. Kidd finished for Tulsa's fourth goal of the night.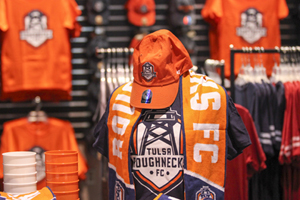 Ochoa put the finishing touch on the victory with a shot from the top of the box in the 87th minute to complete the Roughnecks impressive 5-1 victory.
Tulsa will return home on Saturday and begin preparations for the renewal of the Oklahoma Derby. The Roughnecks will travel down the Turner Turnpike on Saturday, June 13 to take on the Oklahoma City Energy at Taft Stadium.
The next home match for the Roughnecks will be on Thursday, June 25th against Sacramento Republic FC at 7:30pm at ONEOK Field.