OKLAHOMA CITY – Governor Mary Fallin announced Tuesday the Federal Emergency Management Agency (FEMA) has approved public assistance for nine more Oklahoma counties dealing with infrastructure damages in the wake of storms and heavy flooding. The counties approved today include: Canadian, Carter, Choctaw, Coal, Le Flore, Love, Murray, Okmulgee and Pottawatomie.
To date, twenty-five counties have been approved by FEMA for public assistance. Thirteen counties have been approved by FEMA for individual assistance.
Fallin continued to encourage individuals and business-owners whose property was damaged between May 5 and June 4 by storms and flooding to report those damages to FEMA by calling 1-800-621-FEMA (3362) regardless of what county they are located in. She stressed that damage assessments are ongoing and the state expects to add more counties to its requests for both individual and public assistance.
A list of counties receiving aid is below.
Public Assistance (counties approved Tuesday in bold)
Note: Public assistance makes federal funding available to assist municipalities, counties and rural electric cooperatives with infrastructure repairs, debris removal and costs associated with responding to the storms. Governor Fallin has requested public assistance in 25 counties to date, all of which have now been approved by FEMA.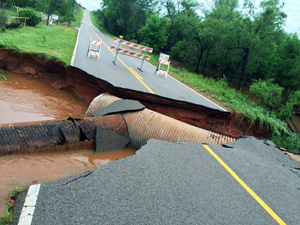 Approved Counties: Atoka, Bryan, Canadian, Carter, Choctaw, Cleveland, Coal, Cotton, Grady, Haskell, Hughes, Johnston, Latimer, Le Flore, Love, McClain, Murray, Okfuskee, Okmulgee, Pittsburg, Pontotoc, Pottawatomie, Seminole, Stephens and Tillman .
Individual Assistance
Note: Individual assistance makes available federal assistance for housing repairs or temporary housing, U.S. Small Business Administration (SBA) low-interest loans for individuals and businesses to repair or replace damaged property, disaster unemployment assistance, and grants for serious needs and necessary disaster expenses not met by other programs. Thirteen Oklahoma counties have been approved by FEMA for individual assistance. Governor Fallin has requested aid for 12 additional counties that have not yet been approved.
Approved Counties: Atoka, Bryan, Comanche, Cleveland, Grady, Johnston, Kiowa, Le Flore, McClain, McCurtain, Oklahoma, Pittsburg and Pottawatomie
Additional Requested Counties: Beckham, Caddo, Canadian, Carter, Latimer, Marshall, McIntosh, Okfuskee, Pushmataha, Seminole, Tulsa and Wagoner