Calling for a return to traditional values in America, Republican Tim Downing, an officer in the United States Army Reserve, a prosecutor and a former assistant pastor, today announced his candidacy for the state House of Representatives.
"I'm running for State House District 42 for many reasons, but first among them include the recent legal decisions that have stripped our nation and our state of the God-given foundation that America was built upon."
A native of rural southern Oklahoma, Downing grew up working on farms and graduated from a small rural high school in Garvin County. He and his wife, Lan, have four children. The Downings met while Lan worked at Tio's Mexican Restaurant in Pauls Valley.
Downing said the loss of Rep. Lisa Billy because of term limits is a loss to Garvin and McClain Counties. "She has been a stateswoman, and a true woman of God who has led by example, not by mere words."
Downing works as a prosecutor in the Office of the Attorney General and as a JAG officer in the United States Army Reserve. He says his experience as a conservative in the legal system provides him the knowledge to make changes here in Oklahoma while fighting against federal overreach.
Downing says it's not inconsequential that the Oklahoma Supreme Court within a week of the ruling on marriage would also deal a blow to people of faith by ruling that the Ten Commandments are not allowed on our state Capitol grounds.
He said the courts have been relentless in attempts to block conservative reforms passed by the state Legislature. "We can start with judicial reform; to better hold accountable unelected judges who overstep their boundaries and legislate from the bench."
Downing says Oklahoma must become a better financial steward of its resources and "say no to excessive government spending and debt." He wants to end the overregulation of businesses, strengthen rural schools, keep transportation as a priority, and he described himself as pro-life from the start of life to its natural end.
While in ministry, Downing worked his way through school earning a bachelor's degree in Public Affairs and Administration from the University of Oklahoma, and a Masters in Management from Oral Roberts University. He also supplemented his income by working in construction and started his own business building houses. He earned a Juris Doctor from Regent University in Virginia.
Downing worked as a legal fellow in Washington, D.C. for U.S. Senator James Inhofe on important issues facing Oklahomans and the Nation. He also worked two years for Jay Sekulow and the American Center for Law and Justice (ACLJ) on issues including opposition to Shariah law, defending Israel, opposing Obamacare, defending religious freedoms, protecting unborn children, fighting for military chaplains and defending traditional marriage.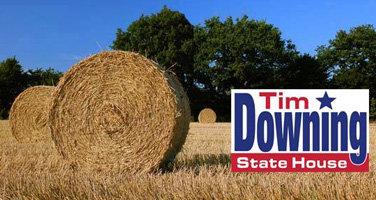 Returning to Oklahoma, Downing went to work for Scott Pruitt as an Assistant Attorney General representing the State of Oklahoma in the criminal appeals process to ensure decisions rendered by judges and juries are upheld in appellate courts.
Downing also joined the U.S. Army Reserve Judge Advocate General's Corps (JAG). Immediately following basic training, his unit received a one-year mobilization to Fort Hood in support of Operation Enduring Freedom missions in Afghanistan. While at Fort Hood, Downing was appointed as Special Assistant U.S. Attorney with the U.S. Department of Justice.
The Downings have been married thirteen years and have four young and very energetic children. They live southwest of Purcell and are actively involved in ministry at Higher Ground Church in Pauls Valley. The decision for Tim to run for office was made as a family, and they are committed to securing a great future for the next generation of Oklahomans.
Click here for Tim Downing's campaign on Facebook. The campaign web site, www.TimDowning.com, is under construction as of this posting.