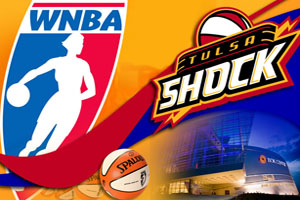 INDIANAPOLIS, IN—Even with their injured teammate Skylar Diggins in attendance the Tulsa Shock fell just three points short of defeating the Indiana Fever, falling 83-80 in the Bankers Life Fieldhouse on Wednesday night.
Riquna Williams led all scorers with a remarkable 31 points, attempted to send the game into overtime in the games dying seconds, but the ball clanged off the rim and out and the Fever held on for the narrow victory.
Williams had an idea what may have went wrong in the game.
"Free throw line.  That was the biggest thing." Williams stated after the game, "We sent them to free throw line.  We kind of dug a hole for ourselves and kept the door open for them."
Head coach Fred Williams agreed.
"I thought it was a hard fought game that could have gone either way there towards the end." Coach Williams commented, "We kind of buried ourselves there in the first quarter.  Then in the third quarter it became a free throw fest.  The opposition shot 17 out of 18.  That's kind of hard to do on the road, hang in there.  I thought our team hung in there and we fought back to have some possessions at the end of the game to take the lead or tie it.  Indiana made some key plays at end and we didn't put the shots down like we needed to."
Riquna Williams 31 points was the highest of all scorers for both teams. Courtney Paris continued her solid rebounding performance by nabbing eight boards.
Indiana's Shavonte Zellous lead the Fever to a victory. Zellous scored 16 points returning to the Fever lineup after missing eight games with a back injury. Zellous played in Tulsa in 2010. Her efforts, along with the rebounding efforts of Tamika Catchings and Natasha Howard (11) helped the Fever outlast the Shock and nab the win for the home team.
Catchings was instrumental in steadying the Fever in the final seconds of the contest as she grabbed a rebound of a Marissa Coleman foul shot and then sunk two of her own.
The loss denied the Shock a chance at three wins in a row and extended the Fever's win streak to a franchise high five straight.
Tomorrow night the Shock face the San Antonio Stars and then it's back home to the BOK Center for a 3:30pm matinee with the Minnesota Lynx on Sunday afternoon.