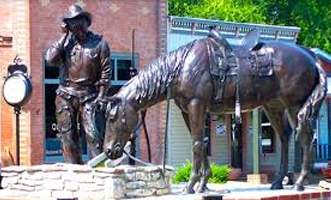 2 Hip Chick's Roadshow will be coming back to the Claremore Expo Center Saturday, August 1st, 9 am-5 pm. They have a great selection of boutique, re-purposed and vintage items to choose from! Admission is $4, children 12 and under free! Receive $1 off admission by bringing school supplies (all donated supplies will be distributed to Claremore schools).
Stop by and experience a Wild West Shoot Out at High Noon at the J.M. Davis Arms & Historical Museum on Saturday, August 1st! The Tri-State Gunfighters will also include a Wells Fargo robbery, Western 21 Gun Salute and deputizing of the kids that are there!
Every Friday until September, the Will Rogers Memorial is hosting Food Truck Friday! There will be a different truck each week serving lunch at the Memorial from 11a – 1:30p. Also, Claremore's favorite storyteller, Andy Hogan, will be on hand telling tales of Will.
Come on out to the Will Rogers Birthplace Ranch on Saturday, August 15th for the Will Rogers Wiley Post Fly-In! Open to the public from 8:30 am-1:00 pm with a variety of vintage planes, kids activities & more! Free for families to enjoy!
West Bend Block Party on the Green will be August 18th from 6 – 9p: Live music, food trucks, beer and shopping! FREE admission and FREE parking!
Shop Late Downtown on Thursday, August 27th from 6-8 pm! They will have food trucks, live music and shopping at the great boutiques & specialty shops in Historic Downtown Claremore!
The Oklahoma Fall Hunting & Fishing Show is August 29th & 30th at the Claremore Expo Center! Come out for all of your fall hunting gear, guided hunts and more!
For more information on these events and more happenings in Claremore call our office at (918) 341-8688 or go to www.visitclaremore.org.