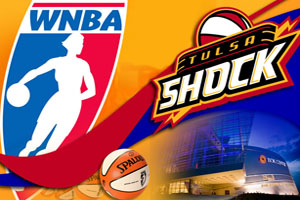 PHOENIX, AZ:  It's not getting any better.
The Tulsa Shock traveled to the high desert on Tuesday night to take on the Phoenix Mercury for the second time in a week and fell to them 87-84 after a clutch last second three-pointer by the Mercury's DeWanna Bonner.
Phoenix (13-7) struggled to run a final play after a timeout with 23 seconds left and again after a timeout with 5.2 left before getting the ball to Bonner near mid-court. She started right, went left above the key before taking a dribble back to the right and shooting over Karima Christmas.
The Shock (10-11) were having a great game up until then, never trailing the Mercury by more than two point the entire contest. All five starters scored at least 14 points with Riquna Williams and Christmas leading with 17. Courtney Paris had 16 points and 16 rebounds.
The Shock have lost every game since it was announced that majority owner Bill Cameron ignored his minority owners and decided to move the team to Arlington in 2016. What was their best season since moving from Detroit in 2010 has evaporated to a 10-11 record, one game below .500 thanks to the ridiculous antics of Cameron.
Other than break the hearts of loyal fans and dispirit the players, what is the point of announcing abandonment of a community in mid-season?
The Shock will travel to Los Angeles for a game with the Sparks tomorrow night at 9:30 Tulsa time. The next home game for Tulsa will be this coming Sunday afternoon at 3:30pm when they will face the Atlanta Dream. There are only six more opportunities to see the Tulsa Shock including Sunday's game, so tickets for that contest and the remainder of the final home games on the Shock's schedule are available at the BOK Center Box Office.