Updated: Oklahoma is shocked today as local and national news cover the horrific death of Oklahoma Labor Commissioner Mark Costello – stabbed to death Sunday night at a northwest Oklahoma City restaurant during a reconciliation effort gone bad with his son.
Costello's son, Christian Costello, 26, was taken into police custody and was being questioned by detectives late Sunday according to the Oklahoman. A statement from the family has been added to this report.
Police confirmed to the Oklahoman Christian was the son of Mark Costello, who also has two other sons and two daughters. Sources told the paper that Christian requested the meeting at the restaurant with Mark Costello and his wife, Cathy.
Lt. Alex Edwards said the stabbing took place shortly after 6:30 p.m. at the Braum's at 11224 N May Ave. Police were told by witnesses the two men got into a heated argument that escalated into violence as the killer stabbed the victim with a knife.
"He made his way around the Braum's seeking help," Edwards said. "He then went outside to the south of the restaurant and was confronted again."
Mark Costello was stabbed again in the parking lot, and police say it was at this time others at the restaurant restrained the killer while awaiting for police to arrive. Witnesses reported the killer remained agitated and tried to go after the victim again. One of the customers punched the killer to stop the attack.
Police arrived within four minutes and found Mark Costello dying in a car in the parking lot. They attempted CPR and wound compression, but Costello was pronounced dead upon arrival at OU Medical Center. Police reported Costello was stabbed multiple times in the neck and head.
Christian Costello previously was arrested last year in an indecent exposure incident in which a woman reported to The Village police that he was seen standing in front of a window at St. Eugene School with his pants down. It was then, she said, that he exposed himself.
The Village police reported Christian Costello was chewing on bird feathers, dandelions and other weeds when they confronted him, according to local television news reports.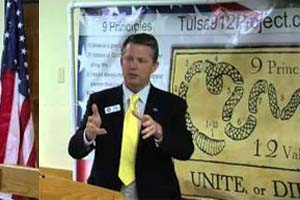 Mark Costello, 59, was first elected Labor Commissioner in 2010 and again in 2014. Sources told The Oklahoman his wife was at the hospital with him when he was declared dead.
Costello's office issued a statement about his death late Sunday night.
"Mark Costello was a tremendous leader, colleague and most importantly friend to all of those at the Oklahoma Department of Labor," the statement said. "Our hearts ache as an agency for this tragic event and our department grieves for his family during this very difficult time. We ask for your prayers and respect for the family of Commissioner Costello."
Condolences were being issued within two hours of Costello's death.
"My family is stunned and deeply grieved to hear of the tragic death of Labor Commissioner Mark Costello," said Sen. James Lankford.
"Mark was passionate about our nation, conservative fiscal principles, and the people of our state. Mark was a friend, and as we grieve, we will also pray for his family as they deal with this unbelievable tragedy," Lankford added.
Oklahoma Congressman Jim Bridenstine said, "My wife and I are devastated by the loss of our friend, Mark Costello. He was principled servant, deeply committed to his faith and to Oklahoma. Our prayers are with Cathy and the Costello family."
This writer considers Mark Costello a close personal friend and mentor. He spoke off the record many times of his love for his son and occasionally of the mental health difficulties Christian Costello suffered. The family had repeatedly offered  reconciliation as their faith and hearts compelled.
Mark Costello was a friend to all. He stood boldly for responsible governance and, as a conservative, put his principles successfully into play in the public policies of the Oklahoma Labor Department. I will miss Mark's humor, wisdom, faithful fellowship, public insight and personal friendship. Mark Costello and his family will long be remembered in my prayers.
Update: The Costello family this afternoon provided the following statement:
There are no words to express the shock and sadness that our family has experienced the last number of hours. The outpouring of emotion and support our family feels is tremendous.

Our son, Christian Costello, has experienced many difficulties over the past several years. Christian, like thousands of Oklahomans, struggles with a mental health disease and like many families we did our best to support him. Mark was committed to being there for his son and provided whatever help he could as a father. 
We ask for your prayers and support as our family tries to cope with and understand this life-changing tragedy.

Mark loved to brag about his kids and their successes, but like many in the public eye, he also viewed his family life as personal. We ask that you respect our family's privacy as we work through this very difficult time and please understand that our family will struggle with this for years to come as we try and find answers.