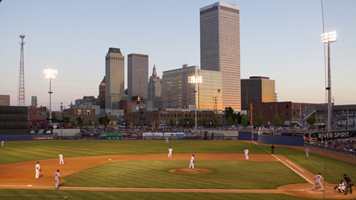 The Drillers will return to ONEOK Field Saturday for their final homestand of the 2015 regular season after a short trip to Arkansas. They will host the Springfield Cardinals in a three-game set August 29, 30 and 31 followed by a four-game series against the Northwest Arkansas Naturals September 1, 2, 3 and 4. All seven games are scheduled to begin at 7:05PM.
There will be several fun promotions at the ballpark during the last seven games. They include a Tulsa's Channel 8 Grand Slam Saturday to begin the homestand, a OKC Thunder Night on Saturday, August 29 along with a final News On 6 Friday Night Fireworks show following the last home game of the year on Friday, September 4.
Individual tickets for these final games of the season are currently available for purchase online at TulsaDrillers.com, in person at the ONEOK Field Ticket Office (201 N. Elgin Avenue) or over the phone at (918) 744-5901.
LEADING THE LEAGUE: Led by pitching coach Matt Herges, this year's Drillers' pitching staff has turned in some quality work on the mound. With just over 10 games left to play, the Tulsa staff leads the Texas League in ERA (3.59), complete games (6) and strikeouts (1,029) while also allowing the fewest total hits by an opponent.
DRILLERS ON THE MOVE IN 2015: The 2015 season has been one of a kind in multiple ways. This was the first year Tulsa served as the Double-A affiliate for the L.A. Dodgers and the parent club was active in their player movement. As of August 26, there have been 64 different players who have worn the Drillers uniform for at least one game.
FANS TURNING OUT DOWN THE STRETCH: Despite playing the fewest home dates in the Texas League this season (partially due to 4 rainouts) the Drillers are still second in the Texas League for total attendance at 341,661. The threshold marks the 20th time in the past 23 seasons that there have been at least 300,000 fans turn out to watch the Drillers play in Tulsa.
AGAINST THE OPPOSITION: The Drillers have had some success against the Springfield Cardinals and NW Arkansas Naturals this season. Facing the Cardinals, the Drillers have gone 14-8 overall with a 6-5 record at ONEOK Field. Against the Naturals, the Drillers have gone 14-14 with a 7-5 record at home.
TULSA DRILLERS SCHEDULE & PROMOTIONS
Saturday, August 29. . . Springfield Cardinals (7:05 PM) – Gates Open at 6:00 PM
TULSA'S CHANNEL 8 GRAND SLAM SATURDAY
Come relax at the ballpark with the final Saturday game of the year. What better way to enjoy a Saturday night? The night and giveaway are sponsored by U.S. Cellular, Tulsa's Channel 8 and 92.9 BOB FM.
THUNDER HEADPHONE GIVEAWAY
Come out early to receive a pair of one-of-a-kind, over-the-ear headphones with The Thunder Logo on one side and Thunder Up in #DrillVille on the other! The headphones will be given out at the Oil Derrick and Arvest Entrances to the first 1,500 fans. There will also be Thunder Girls, Thunder Drummers and Storm Chasers on hand as well as Rumble the Bison (the official mascot of the Thunder) who will throw out the ceremonial first pitch.
Sunday, August 30. . . Springfield Cardinals (7:05 PM) – Gates Open at 6:00 PM
2 NEWS WORKS FOR YOU KIDS EAT FREE SOUVENIR SUNDAY
It's time for one more 2 News Works for You Kids Eat Free Souvenir Sunday. All kids, 12 and under, will receive a Kids Eat Free Coupon that is redeemable for a free hot dog, drink and fruit. It is all provided thanks to Green Country Chevy Dealers, 2 News Works for You and K95.5 FM.
KID'S AWESOME SOCKS GIVEAWAY
The first 500 kids aged 12 and under, will receive an AWESOME pair of Drillers socks to enhance their wardrobes. Only the cool kids wear these socks! After the game, kids can circle the bases of ONEOK Field one last time in 2015 courtesy of Elote Café & Catering! The line begins in the first row between sections 103 and 104.
Monday, August 31. . . Springfield Cardinals (7:05 PM) – Gates Open at 6:00 PM
DODGER BLUE MONDAY
What better way to begin your week than to start it with baseball? Dodger Blue Monday's at ONEOK Field are a chance for fans to celebrate the Drillers' affiliation with the LA Dodgers. Players on the field will be wearing their Dodger Blue jerseys, and fans wearing blue will have a chance to win special prizes all game long. There will also be half price discounts on blue snow cones, blue cotton candy as well as a two for $5 special on Dodger Dogs.
SEASON TICKET HOLDER APPRECIATION DAY
This will be the final chance in 2015 for season ticket holders to get in early and watch the Drillers hit batting practice beginning at 4:30PM. In addition, there will be discounts offered on Dodgers merchandise sold at the team store as well as on several food items including a BOGO offer for specialty popcorn offerings. The night is sponsored by McElroy Manufacturing and AM 1430 The Buzz.
Tuesday, September 1 . . NW Arkansas Naturals (7:05 PM) – Gates Open at 6:00 PM
2 NEWS WORKS FOR YOU $2 TUESDAY
Fans on a budget should definitely take advantage of the last $2 Tuesday brought to you by 2 News Works For You, the City of Tulsa: Focus on the Four program and 106.1 The Twister! Fans can purchase General Admission Lawn tickets for only $2 each, while all other tickets are discounted $3 off normal prices. In addition, hot dogs, Mazzio's Pizza slices, 21 oz. Pepsi fountain drinks, jumbo soft pretzels and boxes of popcorn will all be on sale for only $2 each. Finally, from 6:00PM-8:00PM, it's $2 Shock Top Happy Hour! Shock Top bottles will be on sale for only $2 each at the beer carts located next to Siegi's Sausage Shack behind home plate and the BBQ Cart on the third base concourse.
Wednesday, September 2. . .NW Ark Naturals (7:05 PM) – Gates Open at 6:00 PM
CITY VET HOSPITAL BARK IN THE PARK
Tonight will feature one more of the popular Bark in the Park nights where fans are welcomed to bring their canine best friend to the ballpark. Your dog will not need to have a ticket, but will need to enter through the Arvest or Oil Derrick gates along with having documentation of updated vaccinations. The City Vet Hospital Bark in the Park is presented by Tulsa SPCA, City of Tulsa: Save our Streams and 94.1 The Breeze.
Thursday, September 3. . . NW Ark Naturals (7:05 PM) – Gates Open at 6:00 PM
THIRSTY THURSDAY
Tonight will feature the latest edition of Thirsty Thursday. Twelve ounce servings of Bud & Bud Light draught beers and 16 ounce servings of Pepsi products will all be on sale for only $1 each.
CLEAN OUT THE PROMO CLOSET GIVEAWAY
As part of fan appreciation, it's time to clean out the Promo Room closet. The first 750 fans will receive a voucher to choose a promo item of their liking from our tables located behind home plate! T-shirts, gnomes, bobbleheads, folders and backpacks are just a few of the items that will be available. Fans must enter through the Arvest or Oil Derrick Entrances to receive a voucher. This giveaway is sponsored by FOX23 and 101.5 El Patron.
Friday, September 4 . . . NW Arkansas Naturals (7:05 PM) – Gates Open at 6:00 PM
NEWS ON 6 FRIDAY NIGHT FIREWORKS
Following the game will be one last spectacular Friday Night Fireworks display! Enjoy the start to your weekend as you take in some Friday night baseball followed by one of the best fireworks displays in Oklahoma over the skies of ONEOK Field! The night is presented by River Spirit Casino, News On 6 and 98.5 KVOO.