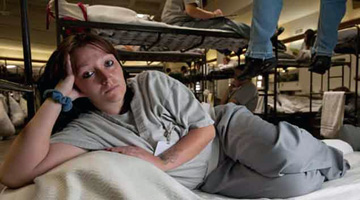 A Legislative interim study focused on the high number of females incarcerated in Oklahoma and the effects on their children will meet this week at the State Capitol.
Oklahoma currently leads the nation in the number of females in prison. In 2014, there were about 130 women incarcerated per 100,000 residents in the state, compared to the national average of 67 per 100,000.
Shorter sentences, rehabilitation programs and alternative correctional measures have all been discussed during previous legislative years, but Oklahoma still faces an understaffed prison program that is overcrowded with offenders. With prison overpopulation steadily rising but limited funds available to hire additional correctional employees, the problem continues to be a point of concern for lawmakers.
Senator Wayne Shaw, R-Grove, who sits on the Senate Public Safety committee and requested the interim study, says the lasting effect on female prisoners, their children and future generations is an area often overlooked when considering prison reform. Even after an offender is released, successful reentry back into the roles of mother, caretaker and provider is often challenging.
"At almost double the national rate and still climbing each year, it's time to examine not only why Oklahoma sees such a high number of female offenders, but also to look at ways to reduce that number significantly," said Shaw. "This study will focus on the high rate of female incarceration in the state, as well as what we can do to help offenders re-enter society and keep them from re-offending."
Shaw says most of the women in Oklahoma's state prison system are first-time offenders, and over half are admitted for a drug offense. The high number of first time offenders admitted to Oklahoma prisons each year creates a negative ripple effect among the hundreds of young children who are left behind while their mothers serve a prison sentence.
"Often times, these children already come from a home without a father present, so when the mother is removed from the home as well, research shows the children can suffer long-term emotional damage, which can lead to difficulties in school as well as drug and alcohol abuse," said Shaw. "Children of incarcerated mothers also have a greater risk of criminal involvement at a young age, thus continuing the generational cycle of deviant behavior within the family."
The interim study is scheduled to be held on Wednesday, September 16 at the State Capitol in room 230, beginning at 9AM. Shaw encourages anyone with an interest to attend. There are 21 presenters on the schedule expected to speak, with the morning group focusing on female incarceration and the afternoon group, which will begin at 1pm, addressing reentry after incarceration for both male and female offenders.
Speakers include representatives from the Department of Corrections, the Family Policy Institute of Oklahoma, the University of Oklahoma, the Oklahoma Jail & Prison Ministries, and the Strategic Reentry Group, among many others. The retired chief from the County of Los Angeles Sheriff's Department is also expected to speak on what approach worked in Orange County, California.
"We can gain valuable insight from listening to these groups and by taking that information back to the so-called "legislative drawing board" and discussing viable solutions," said Shaw. "It's my hope that we can build a better rehabilitation path for incarcerated women and their families."