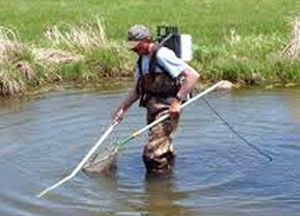 Attorney General Scott Pruitt on Friday said a federal appeals court granted a request by his office and 17 other states to block the implementation of the EPA's "waters of the United States" rule nationwide.
In a published decision, the Sixth Circuit Court of Appeals ruled that Oklahoma and the other states proved they were likely to succeed on the merits of their various lawsuits challenging the rule, known as the WOTUS rule. The court said staying enforcement of the rule "temporarily silences the whirlwind of confusion" caused by the WOTUS rule and "honors the policy of cooperative federalism" by returning power to the states. This is the second federal court to decide that the WOTUS rule is likely unlawful; no court has decided otherwise.
"The WOTUS rule is a devastating blow to private property rights and is an unlawful power grab by the EPA over virtually all bodies of water in the United States. Oklahoma and other states, as well as several private-sector groups, are challenging this unlawful rule. Until those legal challenges are settled, it's entirely appropriate that the federal courts block implementation of the WOTUS rule.
"This is certainly a win for Oklahoma, but the legal fight moves forward as we work diligently to roll back WOTUS," Attorney General Pruitt said.
U.S. Sen. Jim Inhofe (R-Okla.), chairman of the U.S. Senate Environment and Public Works (EPW) Committee, also released a statement following the action of the Sixth Circuit Court of Appeals:"
"The Sixth Circuit's order to suspend nationwide the implementation of the Obama administration's final WOTUS rule is a victory for all states, local governments, farmers, ranchers, and landowners.
"The EPA and Army Corps admitted in February before Congress that the proposed rule was flawed and ambiguous, yet the agencies continued forward and finalized the rule in May. Instead of fixing the overreach, EPA made it broader. In issuing the stay, the court determined that 'petitioners have demonstrated a substantial possibility of success on the merits of their claims.'
This means that the court is likely to overturn the rule. Because this process can take several years, the Sixth Circuit's ruling makes it all the more important for Congress to pass the bipartisan 'Federal Water Quality Protection Act' to provide direction to EPA to develop a different rule. This legislation will require EPA to consult with states, local governments and small businesses and will prevent federal agencies from using the WOTUS rule as a mechanism to control land."
The EPW Committee has held more hearings on the WOTUS rule than any other issue to date. The following are actions taken by Inhofe or the committee regarding WOTUS: