Conservative Republican John Fitzpatrick, a lifelong Tulsa resident and Tulsa Police Reservist with over fourteen years of service to the country as a Tulsa Air National Guard fighter pilot, will seek to replace Sheriff Stanley Glanz next year.
Fitzpatrick, a Tulsa native with a strong personal commitment to both city and county municipalities, brings a portfolio of leadership and teamwork that began with his service in the United States Air Force. A "Top Gun" graduate of the Air National Guard's Fighter Weapons Instructor School, Fitzpatrick served fourteen years as a fighter pilot in the Air National Guard with Tulsa's 125th Tactical Fighter Squadron.
While flying with the Tulsa Air National Guard, Fitzpatrick spent many years in the private sector and has held senior executive management positions with numerous companies, including Hewlett-Packard, Harley-Davidson, Indian Motorcycle Company, and LifeGuard America. 
Fitzpatrick was instrumental in the successful opening of Harley-Davidson's manufacturing plant in Kansas City and led its assembly organization from 1998 to 2000. He left Harley-Davidson to become the Vice President of Strategy at the reformation of Indian Motorcycle Company in Gilroy, California and was promoted to President and CEO shortly after joining the company.
Fitzpatrick then returned to Tulsa in September of 2001 and founded LifeGuard America where he worked for ten years delivering services that dramatically improved the organ, tissue and eye procurement industry across the United States. Since 2014, he has also served as an Associate Professor at Tulsa Community College, teaching manufacturing skills for the Office of Continuing Education and Workforce Development.
In every post, Fitzpatrick's focus was on efficient and effective operations, cutting costs, re-engineering organizations from the top down, and ensuring maximum performance.
As a Reserve Police Officer, Fitzpatrick has over 8,000 hours patrolling the streets of Tulsa as a member of the Tulsa Police Department.  In 2005, Fitzpatrick graduated Valedictorian from the Tulsa Police Reserve Academy. His service has included working with homicide detectives, bicycle patrol, retail crime detectives and the Special Investigation Division.
Fitzpatrick is a certified graduate of more than fifty courses in Federal Emergency Management and Homeland Security, and he is qualified as an Emergency Program Manager with a Certificate in Professional Development for the Department of Homeland Security and the Federal Emergency Management Agency.
Fitzpatrick is a full-spectrum conservative and supporter of liberty. He is a strong defender of the Second Amendment and securing America's southern border (which includes no amnesty or "sanctuary cities" for illegal aliens).
When Fitzpatrick entered the Tulsa Air National Guard, he pledged to support and defend the Constitution against all enemies. Our government was created of, by, and for the people—not bureaucrats, professional politicians, and political insiders. He will oppose any effort to expand government beyond its original purpose and Constitutional authority.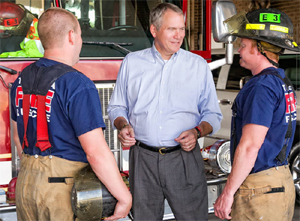 Fitzpatrick supports the death penalty, a crackdown on juvenile crime, and will strongly support his fellow law enforcement officers. He supports requiring welfare recipients to pass drug tests. He supports the creation of a program that mandates community service or internship in order to receive taxpayer-provided welfare payments.
Fitzpatrick's goals as Sheriff are straightforward.
He would base staffing needs on the review of the findings of any audit reports and/or grand jury indictments. He would act quickly to remove and replace any and all personnel not befitting of the Sheriff's office.
He would build an organization based on competence, integrity, and performance — creating a culture of trust and accountability. Fitzpatrick would develop strong relationships with local, state, and federal officials and law enforcement.
As a Tulsa County resident, it is very important to Fitzpatrick that the community fosters meaningful partnerships and lasting, positive relationships with business owners and fellow neighbors.  He will enhance existing programs with innovative ideas including 'Business Watch' and 'Neighborhood Watch' to strengthen the bond between police and citizens within the community.  He will remain available to personally attend Home Owners' Association meetings and the meetings of other community groups to hear concerns and offer support.  He will also be prepared, where necessary, to implement new strategies and tactics to reduce vulnerabilities and crime within residential and commercial areas.
It is the responsibility as Tulsa's next sheriff to maintain strict oversight of the annual budget of the Sheriff's Office and reduce or eliminate any unnecessary spending.  John believes it is important to be good stewards of tax money, and he will work diligently to look for new and innovative ways to incorporate and leverage available technology to ensure public safety, accountability, and transparency.  He will work with the Board of Commissioners to attract and support the needs of the finest professional employees who work for the Tulsa County Sheriff's Office.
Fitzpatrick plans to implement the first Sheriff's Academy for Tulsa County residents. This unique program will allow residents to experience a six-week curriculum which meets twice a week.  Citizens will learn and become more informed on all aspects of their Sheriff's Office and garner a deeper appreciation for what it means to be a dedicated Deputy Sheriff in Tulsa County.
Fitzpatrick would develop a strong public safety campaign with focused strategy to ensure a safer Tulsa county.  These strategies will include having zero tolerance for violent crime, putting families first by stopping the cycle of family violence in the county, and working to completely eliminate human trafficking and methamphetamine production.
He would eliminate wasteful spending and duplicative functions.  John would propose working collaboratively with Municipal Police Departments to merge duplicate resources to provide more cost effective solutions. Similar costs savings should be explored, including joint academy classes and agreements sharing expensive resources that provide time sensitive responses.
John and his wife of thirty years, Luanne, attend First Presbyterian church in Tulsa where John has served as an elder since 2004.
They have two grown daughters, Kelli Kathleen, 25, an alumni of Oklahoma State University working as a designer at Hobby Lobby's Oklahoma City corporate headquarters and Ashlee Anne, 23, a University of Oklahoma graduate who works as a nurse tech at Saint Francis Health System's Children's Hospital while preparing to start interviews for medical school and entering the United States Navy.
"I am dedicated to leading a conservative, ethical and competent workforce as the Sheriff of Tulsa County." John R. Fitzpatrick, III, Conservative Republican Candidate for Sheriff of Tulsa County.
Several Tulsa County leaders have already announced their support:
"I have known and worked with John Fitzpatrick for years, most recently at Drummond Law. John is a native Tulsan who cares about our community and has always had a heart for service.  He is exactly the type of strong, passionate and decisive leader that we need as Tulsa County Sheriff. I am proud to support his campaign for Sheriff of Tulsa County." Gentner F. Drummond, Tulsa Business Leader, Banker and Attorney.
"I have known and worked with John Fitzpatrick for over a decade. John has the law enforcement experience we need in the Sheriff's office for a safer Tulsa County." Mark Groves, Retired Corporal, Tulsa Police Department.
"I have known and worked with John Fitzpatrick for more than fifteen years. John has the integrity and experience we need in the Sheriff's office of Tulsa County. His twelve years of service to his country and our State as a fighter pilot with the Tulsa Air National Guard and to our community as a Tulsa Police Reserve Officer for the past ten years combined with his thirty-five years as a business executive make him the best choice for the next Sheriff of Tulsa County." C. Thomas Thompson, M.D., F.A.C.S., Retired Surgeon and Interim CEO of Saint Francis Health System.
Click here to reach John Fitzpatrick's campaign web site.