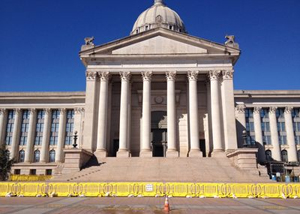 OKLAHOMA CITY – Governor Mary Fallin Wednesday filed an executive order directing state agencies to dispose of any underused property and buildings to generate revenue to pay for the maintenance of state buildings and help offset projected state revenue shortfalls. Her order includes undeveloped land as well as unused or underused office buildings, warehouses and residences.
Agencies have successfully identified and sold unused or underused assets in the past. For example, in July of this year the Department of Human Services sold the former Laura Dester Center property to the city of Tulsa for $955,000. Half of the buildings on the campus were considered underutilized; annual savings as a result of selling those underutilized buildings and not having to pay for such things as maintenance, utilities and landscaping is estimated between $50,000 and $63,000.
"Disposing of underutilized property will reduce costs and ensure our taxpayer dollars are going towards the core government services that Oklahomans rely on," said Fallin. "That is especially important as we approach what we know will be a tough budget year."
Selling underutilized property also will help local governments, she said. Properties sold to private purchasers will be placed on local tax rolls.
In most cases, proceeds from the property sales would go to the Maintenance of State Buildings Revolving Fund.
Fallin's order seeks to expand progress made under legislation enacted in 2013 requiring agencies to dispose of underutilized state properties. Since 2013, the state has generated $1.5 million through the sale of six underutilized state properties.
The state Office of Management and Enterprise Services will assist state agencies with the disposal of underutilized property assets, according to the executive order.