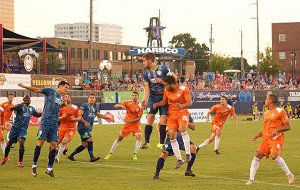 The United Soccer League will be holding it's first-ever league summit in Tulsa next week.   USL President Jake Edwards and other league executives will be joined by representatives of all 30 members of the USL, as the soccer league builds toward the 2016 season.
The event is scheduled from November 9-12 at ONEOK Field, with business meetings during the day and social events scheduled in the evenings. Edwards believes getting all of the league's teams together to discuss the overall direction of the USL, and offer the opportunity for team executives and employees to learn new ways they can make an impact in their respective markets, is an important element to share collectively.
"As the league continues to grow, events like the upcoming one in Tulsa will be very important to keep the league on its upward ascent," Edwards said. "The seminars the USL is providing, and the opportunity for clubs to share best practices, will allow us and our teams to learn a lot over the course of the week, which they can then utilize in their local markets."
The Roughnecks are understandably honored to host the summit, as the organization is coming off a very successful first season in the USL, with eleven wins, eleven losses and six draws (ties) and having a very successful season at home.
"We are excited to be able to showcase Tulsa and ONEOK Field to our partners in the USL," said Roughnecks VP Brian Carroll.  "The USL is an organization growing in size and stature, and we look forward to this unique opportunity to host our peers."
The Roughnecks are in the midst of planning their second season in the USL, which is slated to kick off next March.