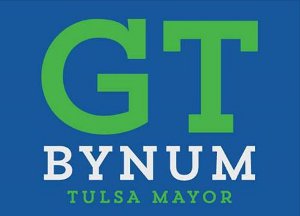 It began officially on Facebook over the weekend in no surprise for most, but today Tulsa City Councilor G.T. Bynum announced he is "filing paperwork to start his campaign for Mayor of Tulsa." In a release to local media, Bynum's campaign listed prominent Tulsans "who have agreed to serve on his campaign steering committee."
The group is comprised of people that hold vastly different perspectives on the approach to public policy issues at the local, state and national level.  Bynum addresses this point saying, "Like Tulsa, these steering committee members represent a broad range of backgrounds and beliefs.  And like Tulsa, they are ready to unite and build a better city for the people they love.  I am appreciative so many have already committed to help with our campaign."
Bynum has served on the city council since 2008.  A few of his key accomplishments have been forming the first municipal veterans treatment court in the United States and creating the first municipal rainy day fund in the state which has helped Tulsa avoid budget crises. Bynum's commitment to the core function of public safety is well known as he crafted a pro-public safety budget that put Tulsa Police Department helicopters back in service and continually worked to increase the number of police academies.
Additionally, Bynum authored Tulsa's first city sales tax reduction and led the development of the largest streets improvement program in Tulsa history.
"As G.T.'s grandfather, I have watched him grow as a person with maturity, integrity, and a high motivation for public service. As a former mayor and life-long Tulsan, I believe Councilor Bynum has the leadership qualities we need for Tulsa's future.  I have seen him move ideas to action with the Council, and I have witnessed his ability to bring people together for the betterment of Tulsa.  It is because of those abilities that I am supporting him in this race," said former Mayor Robert LaFortune who is serving as Chairman of Friends of G.T. Bynum 2016, the name of the campaign organization.
"I am proud to help G.T. Bynum put together what I know will be a successful campaign," said Tulsa businessman Tom Atkinson, who is serving as a Campaign Co-Chair.  "He is serious about moving Tulsa forward and has a proven track record to back it up."
Campaign Chairman Former Tulsa Mayor Robert LaFortune
Campaign Co-Chairs Tom Atkinson, John and Sarah Graves
Steering Committee Members
Former Tulsa City Auditor Preston Doerflinger
Gentner and Wendy Drummond
Former Tulsa City Councilor John Eagleton
Dan Keating
Vincent LoVoi
Paula Marshall
Ed Martinez
State Representative Jeannie McDaniel
Cassie Reese
Scott Vaughn
Former City Councilor Joe Williams
"Tulsans from all across the city and many walks of life are excited about the leadership G.T. Bynum brings to our city," said community leaders John and Sarah Graves. "We are honored to be included in this list of Republicans, Democrats, neighborhood leaders, job creators and others from all across Tulsa.  G.T. has a unique ability to bring together diverse interests for a common good that gives us confidence our best days are yet to come."
Today's filing, the release notes, is only a regulatory compliance and a formal "announcement" is planned at a later date.  The campaign does have a basic website, www.gtbynum.com which will accept campaign contributions and allow voters to sign-up for updates, but has no further content.
A common plea by some in local politics is that a pothole has no political party.  However, the approach to filling potholes – contracted outside or done by regular employees for example – are frequently contrary.
Over the weekend on Facebook G.T. Bynum posted in part:
Having served you on the City Council for the last 7 years, I wanted to contact you directly regarding my intentions moving forward.
Other than Susan agreeing to marry me, the chance to serve you on the City Council has been the great honor of my life. Thanks to your confidence, we've been able to make some really important improvements to the City – whether it be the two largest street programs in Tulsa history, giving our Police officers the tools and colleagues they need, or forming the first city rainy day fund in the state. This week in particular, I'm mindful that we created the first municipal veterans treatment court in the United States – a service which is providing compassion and assistance to those who have kept us free.
Much has changed in the last 7 years. Our son was just a chubby toddler when I first ran – now he has far outpaced any athletic achievements I could ever claim (and in fairness, he did that by the time he was about 5!). He was the original reason I ran for the Council – because people like my grandfather made it a great city for me and I wanted to do that for our boy. And then we had our baby girl! That has only deepened my commitment to making decisions based on what is best for their generation, not what is best for me.
There will be plenty of time to talk over the coming months about why I am running for Mayor, but the short motivation remains the same: our family is committed to Tulsa for the long haul and I believe we have the capacity to build an even better city for the next generation of people we love.