The Tulsa Roughnecks FC defeated the Rio Grande Valley Toros FC 2-0 in front of 5,328 at ONEOK Field on Saturday night as the home side began the 2016 USL Season.
Rookie goalkeeper Alex Mangels, a product of UC-Berkley made 12 saves on the way to the Roughnecks first shutout of the season.  It took the TRFC 8 matches to record their first shutout last season.  In all, the Roughnecks allowed 22 shots on goal in the opener and sent 13 balls at RGV goalie Devin Perales.
It was a slow start for the Roughnecks, who took command of the match off a RGV miscue in the 32nd minute when a David Abidor ricocheted off an RGV defender and into the net, giving the Roughnecks a 1-0 lead.  Sammy Ochoa threatened to double the lead with a pair of chances late in the half.  His header in front of goal was picked out of the air by Perales.  Later, Ochoa's on rushing, left-footed shot from the top of the box sliced wide of goal.
The Roughnecks second goal came just ten seconds off the halftime kickoff.   Midfielder Carlos Martinez found himself in space just inside the box and buried a perfect shot into the upper left corner of the net to make it 2-0.
In the end, Roughnecks head coach David Irving was pleased with his side's performance.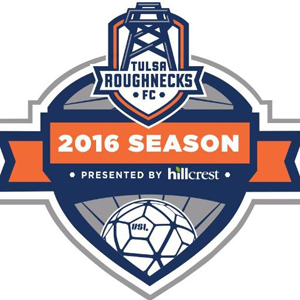 "We didn't play the way we wanted to play, and I think there were a lot of nerves out there." Coach Irving said after the match, "The scoreline did not dictate some of our second-half play.  We didn't play our best, but we got three points so we will take it."
Mangels, who earned Man of the Match honors from the Roughnecks supporters group the Roustabouts was a very happy soccer player after the match.
"This was great," he said.  "Being in front of these fans for only one game, but it was awesome.  The atmosphere is top notch, and I am looking forward to the rest of the season."
Next up for TRFC is the Swope Park Rangers, the USL side of Sporting KC of Major League Soccer.  They come to Tulsa after an impressive 2-1 win over Portland last weekend.