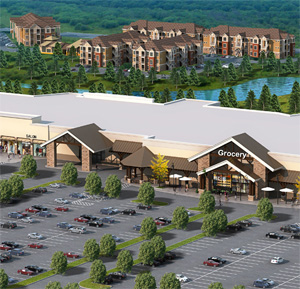 The Signorelli Company, developer of The Shops at Aspen Creek in Broken Arrow has announced that construction of The Reserve at Aspen Creek, a 240-unit upscale apartment project has begun, with an early 2017 opening planned.
The apartments will be the residential component in The Shops at Aspen Creek, a 400,000-square-foot shopping, dining and entertainment destination planned to include multiple restaurants and popular stores in addition to multi-family residences. The entertainment anchor is the 16-screen, state-of-the-art Warren Theatre, which opened in 2015.
Situated at the east end of The Shops at Aspen Creek, with entrances from West Tucson Street and West Aspen Creek Drive, the three-story apartments were designed by Tulsa-based Architects Collective. The apartments will be managed by Trinity Multifamily, the operating partner of developer Griffin Properties, which acquired the 13- acre site in 2014. Trinity Multifamily owns and manages over 8,000 apartments in Arkansas, Texas, Oklahoma, Missouri and Kansas.
According to Cliff Cabaness, CEO of Trinity Multifamily, The Reserve at Aspen Creek will consist of 20 buildings with luxury amenities including a salt water infinity resort-style pool, gazebos and fire pits, upscale workout facilities and a business center. The interiors will feature stainless steel appliances and granite countertops.
"With the entertainment anchor and now the residential component in place, we are excited about the progress of The Shops at Aspen Creek," said Danny Signorelli, President and CEO of The Signorelli Company. "Our goal is to bring the highest quality product here, such as the very successful Warren Theatre, one of the largest and most elaborate movie theatres in the country. These projects will help The Shops at Aspen Creek set the standard for retail and mixed-use development in Oklahoma. We look forward to sharing more exciting announcements about new stores and restaurants coming to The Shops at Aspen Creek in the near future."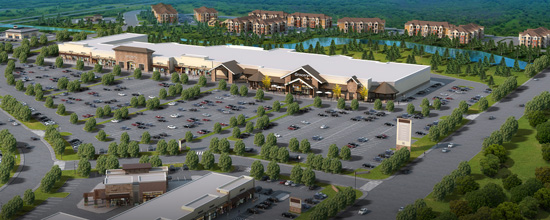 The Signorelli Company, founded by Danny Signorelli, has developed and built the finest places where families can live, work, shop and play. Diversified in all aspects of real estate development from single-family and multi-family to retail, commercial and mixed-use projects, The Signorelli Company is recognized as a leader in Houston, and is one of the largest privately held development companies in the State of Texas. The Company is headquartered in The Woodlands, TX. For more information about The Signorelli Company, visit www.signorellicompany.com.