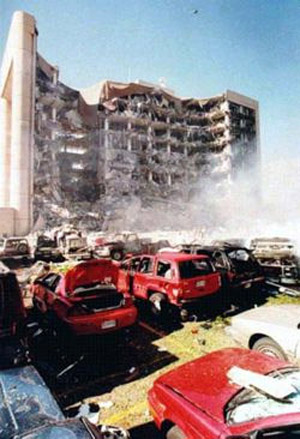 Thursday, the Senate honored the life of one of Oklahoma's great sons, former Oklahoma City Assistant Fire Chief and Public Information Officer, Jon Hansen.
Hansen is best known for his vital role in keeping Oklahomans and the world informed following the bombing of the Alfred P. Murrah building in 1995.  Sen. Ron Sharp was the author of Senate Resolution 59.
"It was an honor to know Jon Hansen.  He represented the first responders of so many disasters but he will always be remembered for his incredible work and dedication following the Oklahoma City bombing," said Sharp, R-Shawnee.
"He was a voice of strength, comfort, compassion and reassurance for not only Oklahomans but all Americans following what was, at the time, the worst act of domestic terrorism in our country's history.  He let the world know that we had been wounded but that we would persevere and could never be broken.  He was a shining example of the strong, resilient Oklahoma spirit.  Our deepest condolences are with his family."
Hansen began his 26-year career with the Oklahoma City Fire Department in November 1973 promoting through the ranks to become Fire Marshal in 1995.  As Assistant Fire Chief, he served as the department's Public Information Officer. 
Following the bombing, Hansen kept the public informed by routinely giving updates to media outlets around the world about the tragic event and what was being done to help the victims and protect the public.
When tragedy struck Oklahoma again on May 3, 1999, he once again worked around the clock providing updates to the public about the deadly tornado that damaged and destroyed thousands of homes in Moore and South Oklahoma City including his own.
After his retirement in July 1999, Hansen continued to serve the fire service in various capacities including serving as the executive director of Oklahoma's Council of Firefighter Training.  He was nominated by President George W. Bush in April 2002 to head the U.S. Fire Administration, but asked that his name be withdrawn so he could spend more time with his family.
After a long battle with cancer, Hansen passed away on Friday, April 15, at his home.  A memorial service will be held for him on Saturday, April 23.  SR59 named the special date "Jon Hansen Day" in the State of Oklahoma in his honor.