Mvskoke Media, the media arm of the Muscogee (Creek) Nation, received the 2016 Oklahoma Society of Professional Journalists Carter Bradley First Amendment Award April 30 at the Reed Conference Center in Midwest City, Okla.
"The passage of an Independent Press Act for the fourth largest tribe in America is a pronounced indicator that Native American citizens are getting serious about the type of relationship they have with their respective governments," Mvskoke Media Interim Manager Jason Salsman said. "The message is loud and clear, transparency is a mandate. To be a part of something that will leave such a legacy and make such an impact for generations to come is both gratifying and humbling."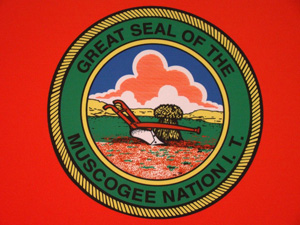 Mvskoke Media was nominated for the award for its role in the passage of the Muscogee (Creek) Nation Independent Press Act in 2015, establishing the entity as a tribal-funded, independent agency in order to report the Nation's news and activities objectively without interference or bias.
The outlet previously reported through the organizational structure to the Nation's executive branch.
Carl Bernstein of the 'Woodward and Bernstein' byline who broke the Watergate scandal was the keynote speaker for the OKSPJ event.
Mvskoke Media consists of a bi-monthly newspaper, 'Muscogee Nation News,' weekly TV and radio shows, 'Native News Today' and 'Mvskoke Radio,' as well as a graphics and printing division.
For more information about Mvskoke Media visit: http://www.mvskokemedia.com/.