The fifth annual Dodgebrawl Tournament presented by 2 Fellas Moving Company returns to BOK Center July 23. This one-day dodge ball tournament sets teams to compete for the charity or nonprofit of their choice with each winning team's selected charity/nonprofit receiving a financial donation on behalf of the tournament.
"We're excited to bring Dodgebrawl back to BOK Center this year," said Jeff Nickler, BOK Center General Manager. "It's a great opportunity for our guests to have fun while supporting local charities and nonprofits."
Dodgebrawl started in 2012 with 50 participating teams and it has grown to a 64-team tournament. As the event grows, it has become a staple for the Tulsa community. Admission to Dodgebrawl is free and all are welcome to attend and cheer on their favorite team during the tournament. 
Sixty-four teams of six gather on July 23 at BOK Center. Each team will be guaranteed three games – one warm-up game and then two games (or more) in a double-elimination bracket. At the end of the day, prizes will be awarded to the selected charities/nonprofits of the top three teams. Prizes will also be awarded to teams with the best team name and best team uniform. Anyone interested in playing in the tournament can register at http://tulsadodgebrawl.com/.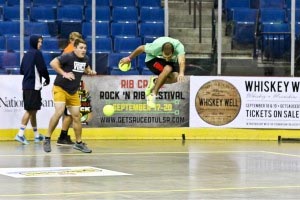 Dodgebrawl 2016 is presented by 2 Fellas Moving Company. Other partners include Shock Top, Tulsa Community College, Fox23 and iHeartMedia. Dodgebrawl is coordinated and produced by SMG Tulsa Special Events.
More information about Dodgebrawl 2016 is located at http://tulsadodgebrawl.com/.