Opinion: In a special election April 5, 2016 Vic Regalado overwhelmingly won the Tulsa County Sheriff's office to become the first of Hispanic descent to earn countywide voter support. Tulsans made the right choice and should confirm that vote Tuesday June 28th.
Sheriff Regalado has moved quickly to fix long troubling issues within the department. He has hired and promoted quality staff, secured additional law-enforcement grants to expand services and shown a transparency and responsiveness long missing from the office.
Defeated opponent Luke Sherman never stopped campaigning in a whining embittered tone that has disgusted many more often than not. While both are registered Republican, Sherman has the "behind the scenes" support of former-mayor Democrat Kathy Taylor cronies like mayoral candidate G.T. Bynum (click here for more) which is odd given how often Taylor publicly criticized and fought against the Sheriff's Department during her brief troubled and expensive tenure. From published reports, Sherman was once a security contractor for Taylor.
Further, Luke Sherman has squealed over every imagined offense to the point that media don't even respond to his frequent fabricated offenses. We believe his exaggerations to be, at best, disingenuous. Sherman's father works for the Tulsa World.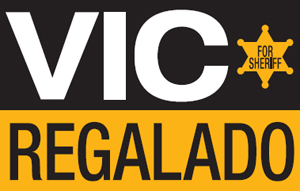 Former Tulsa County District Attorney Tim Harris said, "Vic Regalado has put the Tulsa County Sheriff's Office back on a steady path. He has restored transparency and professionalism" writing further in a public endorsement, "Allow Vic Regalado to continue restoring the people's trust in our sheriff's office."
Tulsa Today agrees as does former U.S. Attorney and Oklahoma Governor Frank Keating and a host of Tulsa Police Department leadership.
Sheriff Regalado was the lead homicide detective in 81 Tulsa homicides, including some of the region's highest profile cases. Cracking down on violence, Regalado supervised a Special Investigations Gang Unit, served on the Tulsa Police SWAT team for nearly a decade, and has been an instructor for the Council on Law Enforcement and Education Training (CLEET). He teaches the proper use of deadly force, victim interview strategies and proper suspect interrogation.
Fellow officers say Sgt. Regalado was a unique instructor, because he had done the jobs he later prepared others to do. Vic was awarded one of the highest honors for a police officer. In 2004, he received the Medal of Valor after he risked his own life, going above and beyond the call of duty to protect an innocent citizen during a battle with a gunman accused in two homicides.
To read Sheriff Regalado's law enforcement assignment history, special assignments, leadership commissions, special training, testimonies from crime victims and more detail on numerous high profile Tulsa cases, click here for Vic Regalado online.