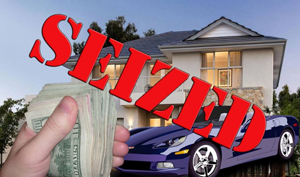 The Oklahoman is reporting today that their investigations show police departments in the OKC metropolitan area have seized nearly $40 million from suspected criminals since the early 1990s.
They've also spent millions in seized cash during that time, on anything from Medicare payroll costs to high-dollar patrol bikes to police dogs.
It is a shame Northeastern Oklahoma does not have a newspaper worthy of the name to conduct such an investigation here.
An analysis by The Oklahoman of a decades' worth of financial records reveals that the Oklahoma City Police Department has received the lion's share of the suspected ill-gotten cash — $32.8 million in seizures since 1993 — but the state's largest municipal force is pulling in less and less of this kind of revenue in recent years.
Smaller municipalities like Edmond and Norman are seeing significant increases. Police officials say the rise in such funding — and spending — is due to a variety of legitimate, noncontroversial factors. Under Oklahoma law, officers are given the authority to "make seizures of property" as part of their overall duties.
Cash, vehicles, real property and any "thing of value" can be seized by authorities if it is deemed somehow connected, in any way, to suspected criminal activity, according to state law.
Further complicating matters, in some instances, is that people who have their money or property seized must prove it's not somehow connected to criminal dealings if they want it back, a reality that has caused the practice of asset forfeiture to become among the most controversial surrounding law enforcement.
Made legal by the federal government in the 1980s as part of the War on Drugs, asset forfeiture has drawn sharp criticism across the nation in recent years, including here in Oklahoma.
Most recently, Gov. Mary Fallin announced in June that electronic card readers capable of seizing funds loaded onto credit and debit cards are not to be used by the Oklahoma Department of Public Safety until it is able to "formulate a clear policy for using this new technology