Back to school season can be a financially challenging time for many North Tulsa Families. Buying new clothes, books, and school supplies can be extremely expensive, especially for families with more than one child. This year, several Tulsa community leaders have come together to organize a program that provided a free, brand new backpack filled with school supplies to every single student at Jackson Elementary School in North Tulsa.
The "Graves McLain Free Backpack Program" is the result of the combined efforts of local attorneys Graves McLain Law Firm, All Souls Church, Tulsa Public Schools, the Tulsa Police Department, and several other community leaders. Representatives from each organization teamed up to help make a positive impact on the lives of students at Jackson Elementary School in North Tulsa. This was the first year of the "Graves McLain Free Backpack Program," but organizers hope to expand this important community partnership next year.
Said organizer Attorney Chad McLain: "We all need to do our part to ensure that every young person gets a proper education, and we hope that the free backpack program will help students at Jackson Elementary get their new school year off to a strong start."
On Tuesday, 8/23, Jackson Elementary School students gathered in their gymnasium for a special assembly. None of the students had any idea that they were about to receive a brand new backpack filled with donated school supplies.
Principal Elmer Thomas greeted the students and explained that they were being joined by some very special guests. He then introduced Attorney Chad McLain, who gave a brief but uplifting speech to the students about the importance of "working hard and dreaming big." Attorney McLain asked the students what they hoped to become when they grew up (common answers included "police officer" and "astronaut") and reminded them that with hard work, they can achieve anything.
Next came the big reveal, when Attorney McLain announced to the students for the first time that they would be receiving free, brand new backpacks filled with donated school supplies. All the schools supplies in the backpacks were donated by generous members of All Souls Church in Tulsa. All Souls Unitarian Church has had a partnership with Jackson Elementary since 1988, and they were delighted to have Graves McLain Law Firm join them in support of their students with this new free backpack initiative.
After the students' cheers subsided, Attorney Chad McLain introduced the next speaker, Captain Mike Williams of the Tulsa Police Department's Gilcrease Division. Captain Williams is a veteran of the U.S. Navy and has more than 30 years of experience serving the Tulsa Police Department.
During his speech to the students, Captain Williams explained that he is an example of someone that overcame a tough upbringing to achieve great things. He reminded the students: "it's not where you begin, it's where you end."  He also emphasized the importance of education, telling the students that even after completing his naval service, he still returned to college to receive his degree.
Following these inspirational messages from Attorney McLain and Captain Williams, the students were finally ready to receive their brand new backpacks and school supplies. The students lined up by grade so that Graves McLain Attorneys Chad McLain, Dan Graves, and Rachel Gusman, along with Captain Williams and several other Tulsa Police Officers, could give them their new backpack, a handshake, and a sincere "good luck" wish for the upcoming school year.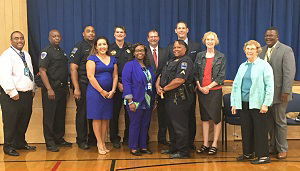 Overall, the Graves McLain Free Backpack Program was a resounding success that brought the North Tulsa community together in support of these young students at Jackson Elementary School.
To learn more about the organizations that made this event possible, please visit:
• www.gravesmclain.com
• http://jackson.tulsaschools.org/
• http://allsoulschurch.org/
• http://www.tulsaschools.org/6_Community/partners_education_main.asp
• https://www.tulsapolice.org/content/gid.aspx