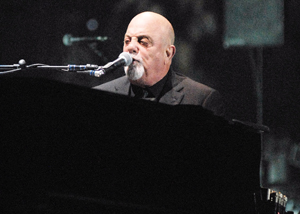 Legendary singer-songwriter Billy Joel returned to Tulsa for the first time since 2009, thrilling a receptive audience packed inside the BOK Center. Back then he was touring with Elton John during their highly successful Face 2 Face tour.  On this night however, it was all Joel, performing solo here for the first time in nearly 30 years.
Opening his set with "Miami 2017 (Seen The Lights Go Out On Broadway)" Joel skillfully took the audience on a musical journey literally from A-Z through his vast catalog of hits, from "Allentown" to "Zanzibar."  He even dusted off "The Ballad of Billy The Kid" from his 1973 album "Piano Man."  When the song ended Joel explained to the crowd how it was factually, geographically and historically inaccurate, joking that at that point in his career he had never traveled further west than New York.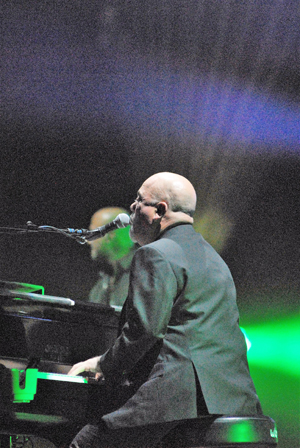 The most emotional part of his Veteran's Day concert was when several veterans were escorted onto the stage to become backing vocalists for the powerful "Goodnight Saigon."  When the song ended, Joel left his piano to walk over and shake each of their hands, leading to a well-deserved standing ovation when he said to the audience, "thank them."
Although Joel hasn't released any new material since 1993's "River of Dreams" it didn't matter to the fans gathered inside, as his live performances haven't lost any punch.  His voice is clear and strong as ever and his shows are enhanced by the experienced musicians and vocalists backing him up.
Long-time band member Mark Rivera creates magic with his saxophone, most notably "Scenes From An Italian Restaurant" and "Only The Good Die Young," while vocalist Crystal Taliefero's powerful voice simply must be heard to be believed.
At one point during the show a long-time roadie who goes by the name "Chainsaw" stepped onto the stage and performed a rousing rendition of "Highway To Hell" by AC/DC, doing a perfect mic drop as he left the stage.  A few songs later another background singer, Mike Delgiudice slowed things down by singing Puccini's "Nessun Dorma" as Joel accompanied him on the piano.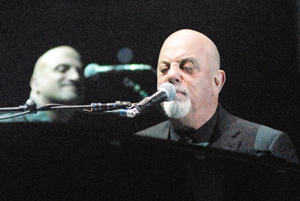 Joel and his band played several shows at Major League Baseball stadiums over the summer, but last Friday's show was one of just a few held outside New York.  Leaving the arena, it was clear that fans were undoubtedly hoping it won't be another seven years until the piano man returns.
All photos by Greg Duke, Tulsa Today.