In recognition of Warrior Care Month and National Family Caregivers Month, Defense and Veterans Brain Injury Center (DVBIC) launched a new podcast for family caregivers of service members and veterans with traumatic brain injuries November 22.
The podcast, called "The TBI Family," will focus on providing information about TBI, sharing resources for caregivers and telling caregiver stories.
"We know family caregivers don't have a lot of free time, but do need access to information," said Col. (Dr.) Geoffrey Grammer, DVBIC director. "Podcasts are a great way to get our message to caregivers in a way that works for their schedules."
Traumatic brain injury (TBI) is a significant health issue which affects service members and veterans during times of both peace and war. The high rate of TBI and blast-related concussion events resulting from current combat operations directly impacts the health and safety of individual service members and subsequently the level of unit readiness and troop retention. The impacts of TBI are felt within each branch of the service and throughout both the Department of Defense (DoD) and the Department of Veterans Affairs (VA) health care systems.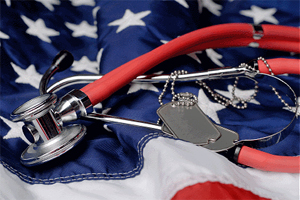 According to a recent study by Rand Corp., there are 5.5 million military family caregivers in the United States and 29 percent of them are helping someone who experienced a TBI. The study found that the term "family caregiver" can be misleading as well. Nearly a quarter of military caregivers are friends and neighbors.
"We really hope this podcast helps caregivers overcome the challenges they face every day," said Grammer, "but the only way we can really be sure is feedback from the caregivers themselves. We hope they'll let us know what they'd like to hear and whether we're providing that."
DVBIC is planning a 10-episode first season.
DVBIC serves active-duty military, their beneficiaries, and veterans with traumatic brain injury through state-of-the-science clinical care, innovative clinical research initiatives and educational programs, and support for force health protection services. Please visit the DVBIC website for more information.