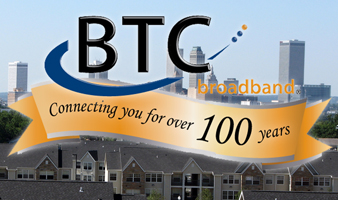 BTC Broadband announced this week another major expansion of its fiber optic backbone network for business services in the Tulsa Metro market.
"Businesses in the Tulsa Metro need and deserve to have access to reliable high-speed internet at competitive prices. With recent telecom consolidation and the resulting reduction of competition in the Tulsa market, businesses have been reaching out to us to provide an alternative, with fiber optic capability and more competitive pricing.
"Our fiber optic network positions us to satisfy that need, both now and well into the future," said Scott Floyd, President, BTC Broadband. 
"Telecom infrastructure with greater capacity and better priced internet will help Tulsa compete for new business. That spurs new jobs and helps the overall economic picture," Floyd added. 
BTC Broadband has been consistently investing, expanding and reinforcing their underground fiber infrastructure for over 10 years. Recent developments have allowed for even further network reach and added network diversity.
Their fiber backbone now spans some 90 miles, from Bartlesville to Henryetta and includes communities such as Bartlesville, Collinsville, Owasso, Tulsa, Bixby, Broken Arrow, Jenks, Sapulpa, Glenpool, Okmulgee and Henryetta. In addition to being able to provide fiber optic telecommunications services to the Tulsa business market, this environment allows for launching points in each business district all along the route.
CEO Bob Rozell notes, "This expansion has the potential to provide many communities throughout Green Country the leverage to attract top industries and jobs, and allows them to be competitive with other cities anywhere."
Interested businesses may contact BTC Broadband at 918-366-8000 for information on products and services.
In business for over 100 years, BTC Broadband is a cutting-edge broadband communications company offering the latest in technology. They were the first to offer residential gigabit Internet to the Bixby area. They provide business telecommunications services, including carrier class high-speed internet, long distance, data networking and business phone systems throughout Green Country. BTC Broadband is located at 11134 S. Memorial, Bixby, OK 74008. Click for more http://www.btcbroadband.com/.
BTC Corporate history is detailed in the following video: