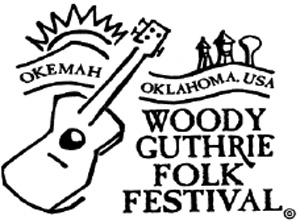 The Woody Guthrie Coalition which presents the annual Woody Guthrie Folk Festival has launched a GoFundMe campaign to help defray the cost of the 20th annual festival scheduled July 12-16, 2017 in Okemah,OK.
The last several years have been a challenge financially as the costs of travel and lodging have increased. After 17 years of providing a free festival, in 2015 the event in Woody Guthrie's hometown was forced to charge an admission fee, but organizers report they still struggle to stay afloat.
As planning began for this year's festival, it became apparent to organizers that the event needs help to continue – any help and they are confident at least 3000 people would be willing and able to donate $20 to keep the festival going and the Coalition solvent. (No donation is too small!) Meeting this goal would erase current debt and provide a healthy starting point for the 2017 festival organizers declare.
Ellis Paul, WoodyFest regular and Advisory Board member has written in support on his Facebook page: "I've long been fueled and inspired by my relationship to Okemah, OK and the Woody Guthrie Folk Festival. They need our help to keep the door open. It's always been a festival that tried to be true to Woody's ideals of free everything which has always been financially precarious…
"The festival has also long been a place to reconnect with your own music, Woody's music, and the community of friends that are so vital to American folk music. If you've been, if you are fan of Woody's legacy, your life is better for it. PLEASE help support this festival by most importantly contributing AND SHARING THIS POST…"
The problem of course with socialism and communism which Woody Guthrie represents is that "eventually, you run out of other people's money," as Margaret Thatcher famously said.
The festival should not be confused with the Woody Guthrie Center in Tulsa supported by Tulsa's most famous self-hating-capitalist and well funded by all signs. But maybe that is the most important lesson of Woody Guthrie, until you master the business side of music or find a wealthy patron, odds are great your music will never be heard. Maybe at the 4th Annual Celebration of the Woody Guthrie Center in April, they could put out a tip jar for the musicians in Okemah that actually still make the music.
The Woody Guthrie Folk Festival, in Okemah attracts attendees from around the world and credits grants from the Oklahoma Arts Council and sponsors including the George Kaiser Family Foundation and BancFirst.
For a complete listing of sponsors and other information, please visit the festival website at http://www.woodyfest.com/, but the presentation needs to be updated. It shows precious little of the upcoming festival.  Regardless, the appeal for funding is found here: www.gofundme.com/woodyfest.