Saturday, Tulsa Welding School (TWS) – the largest welding school in the U.S. – welcomed nearly 200 high school seniors from across the country for its annual Welding Competition.
In the fierce competition, Jared Jacquot of South County Technical High School in Saint Louis was named Grand Champion. Each participant received a $500 scholarship to TWS to continue their education and training, and Jacquot walked away with a full tuition scholarship.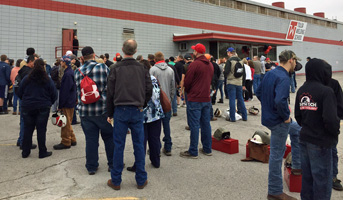 The competition itself was a timed arc welding test that required participants to use various positions and techniques to complete. Contestants were graded on adherence to procedure, quality of the weld and final completion time.
"We were happy to host another exciting Welding Competition yesterday, and welcome students from 16 states to our campus," said Joe McKinney, Vice President of High School Admissions.
"The competition is open to students who have taken a welding class in high school or at a vocational technical institute, and serves as an opportunity to showcase their skills and invest in their future by learning more about the school's vocational programs – at the Tulsa, Jacksonville or Houston campuses," McKinney added.
In addition to the games, the event also included a tour of the facilities, demonstrations by welding equipment manufacturers, and talks from prospective employers, student services, financial aid and admissions department representatives. Family members even had the opportunity to try their hand at welding and metal cutting to get a taste of what students experience in welding classes.
Tulsa Welding School was founded in 1949 and has trained thousands to become professional, entry-level welders. Students learn hands-on, technical competencies and skills in labs, workshops and classrooms, with a curriculum designed to meet employers' needs. TWS offers Professional Welder and Pipefitting programs. Upon program completion, TWS graduates are equipped to start entry-level careers in a variety of industries, ranging from automotive to manufacturing. TWS is an ACCSC accredited school and licensed by OBPVS.