Only a few days left to register for the 2017 Chapman Foundations Route 66 Gurney Tourney, a fun family event featuring outrageously decorated gurney beds, designed and sponsored by individuals, businesses, organizations and clubs, which will be awarded for theme, décor and racing success.
The event is scheduled for Saturday, April 15 at 10 a.m. at The University of Tulsa, and proceeds support Hospitality House of Tulsa's mission to provide a "home away from home" for families caring for loved ones in medical crisis. 
"It is my pleasure to be the honorary chair for this event, right here on the University of Tulsa campus along Route 66," says event chair, Dr. Gerard Clancy.  "I hope you will join me for competition at its best:  fun, light-hearted and for a good cause."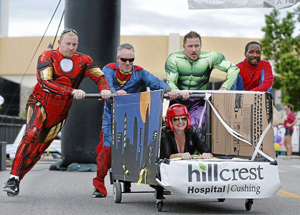 Teams of five will compete in the Route 66 Gurney Tourney in heats, including quarter-finals, semi-finals and final race, followed by an awards ceremony and a "Hope Rising" mass balloon release honoring family and friends experiencing a medical crisis. New additions to this year's event  include a 50s theme and car show,  as well as an Easter egg hunt and kids zone for children with a bouncy house, face painting, and lunch available from local food trucks. Community members can get involved by participating on a race team, sponsoring the event, and attending to cheer on their favorite teams.
Team registration ends April 2nd and late registration on April 10th for additional fee. Racing gurneys are provided. For more information or to get involved, call Hospitality House of Tulsa at (918) 794-0088 Ext. 205 or visit www.HHTulsa.org and click on their events page.
Hospitality House of Tulsa is a Christian, faith-based 501(c)(3) charity that provides lodging, meals and support services to families traveling to Tulsa in medical crisis. Annually, more than 25,000 patients travel to Tulsa for inpatient medical care, accompanied by family members and caregivers who are without financial resources for expenses such as lodging and food, especially during a lengthy medical stay.  Hospitality House of Tulsa provides home-like lodging, meals, prayer support and other services to 966 families each year who travel to Tulsa in medical crisis.