With employers expecting to hire 5 percent more graduates from the Class of 2017 than in the previous year, the personal-finance website WalletHub conducted an in-depth analysis of 2017's Best & Worst States for Jobs.
WalletHub's analysts compared the 50 states across 24 key indicators of job-market strength, opportunity and economic vitality. The data set ranges from employment growth to median annual income to average commute time. 
Finding a Job in Oklahoma (1=Best; 25=Avg.)
• 35th – Job Opportunities
• 48th – Employment Growth
• 31st – Monthly Average Starting Salary
• 27th – Unemployment Rate
• 26th – Median Annual Income (Adjusted for Cost of Living)
• 44th – Avg. Length of Work Week (in Hours)
• 26th – Job Satisfaction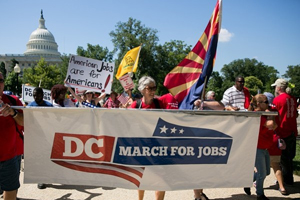 From the study: Washington, Colorado and New Hampshire are the top three states for employment.  Surprisingly, Alaska ranks just above Oklahoma as the 44 worst state and the fives states worse that Oklahoma (only 50 states, not 57 as former-President Obama once declared in a public speech) are Mississippi, Alabama, Kentucky, Louisiana and West Virginia.