OKLAHOMA CITY – Governor Mary Fallin today announced that Gary Ridley, who served as secretary of transportation for two governors, is retiring. His retirement is effective immediately.
Fallin appointed Oklahoma Department of Transportation (ODOT) Executive Director Mike Patterson to succeed Ridley, pending Senate confirmation next legislative session. In 2013, Patterson, a longtime ODOT employee, succeeded Ridley as ODOT's executive director.
Ridley worked for ODOT for 48 years. He was appointed secretary of transportation in 2009 by then-Governor Brad Henry. Fallin reappointed Ridley to the post after she took office in 2011.
"Gary Ridley's name is synonymous with roads and bridges, in Oklahoma and across the country," said Fallin. "He has testified to Congress on several occasions, and his input is often sought on Capitol Hill about the challenges facing state transportation officials. He is the primary reason Oklahoma roads and bridges have improved over the past several years instead of deteriorating, as they had for so long due to chronic underfunding of state money.
"During Gary's tenure, the number of bad bridges has been reduced, and safety features, such as life-saving cable barriers, have become common on Oklahoma highways," she said. "I'm grateful for his expertise, hard work, and, most of all, his counsel. He is among my trusted advisers, and has always has put the needs of Oklahoma and Oklahomans as his first priority."
Ridley's ODOT service began in 1965, when he joined the department as an equipment operator. He moved up to maintenance superintendent at Kingfisher in 1970 and traffic superintendent at Perry in 1979. In 1983, he became field maintenance manager at Perry, and then advanced to Division Five maintenance engineer at Clinton in 1986. He became division engineer at Division Five in Clinton in 1995. He was named assistant director for operations in 2001 before becoming ODOT director later that year.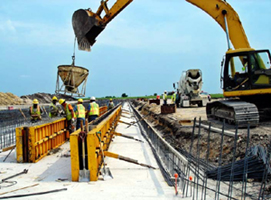 Ridley served as ODOT's director from August 2001 to April 2013. He also was director of the Oklahoma Turnpike Authority from October 2009 to April 2013.
After the Webbers Falls Interstate 40 bridge disaster in the summer of 2002, Ridley led ODOT's effort to rebuild the bridge in record time. He also worked with the state Legislature when it passed several landmark pieces of legislation to improve transportation funding.
Ridley also improved the process of developing the department's eight-year construction work plan. He helped secure funding increases for transportation, which allowed him to firm up commitments made in the fiscally constrained plan, particularly those during the first three years. He also created ODOT's four-year asset preservation plan, which is aimed at maximizing the life of Oklahoma's infrastructure.
"It's been such an honor serving Governor Fallin, and a greater honor that I can call her a friend," Ridley said. "She has accomplished so much for Oklahoma, especially in the area of transportation. The progress on her goal of reducing the number of structurally deficient bridges on and off the highway system is remarkable, and I'm glad to have been part of it and many of her other accomplishments. It has been a pleasure serving our great state for the past 50 years, and I'll be around to lend a hand in any way that might help Oklahoma. I feel that I'm leaving transportation in very good hands."
Patterson, before being appointed ODOT's executive director, served as the agency's deputy director for three years as well as filling the role of chief financial officer since 1999. Patterson previously served as the comptroller for the agency for 15 years. He began his career with ODOT as deputy comptroller in 1980.
"I am very honored that the governor has showed me this level of confidence," Patterson said. "It has been extremely gratifying working with her and Secretary Ridley the last four years toward improving our state's transportation system. I look forward to working closely with the governor and her strong team of experienced Cabinet members in bringing programs to the state that benefit Oklahomans through improved safety, mobility and economic growth."
Patterson has been active with the American Association of State Highway and Transportation Officials for many years, and has served in several leadership roles.
He earned a bachelor's degree in accounting from Central State University, now the University of Central Oklahoma (UCO), in 1976 and a master's degree in finance from UCO in 1993.
Patterson and his wife, Joy, live in Edmond. They have two daughters and five granddaughters.