The Associated Press is reporting today the Supreme Court approved the Trump administration ban on travel from six mostly war-torn countries, a victory for President Donald Trump in the "biggest legal controversy of his young presidency."
Justices will hear full arguments in October. The court said Monday that Trump's ban on visitors from Iran, Libya, Somalia, Sudan, Syria and Yemen can be enforced if those visitors lack a "credible claim of a bona fide relationship with a person or entity in the United States."
Trump said last week that the ban would take effect 72 hours after being cleared by courts.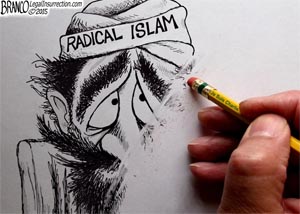 The administration has said the 90-day ban was needed on national security grounds to allow an internal review of screening procedures for visa applicants from the six countries.
Opponents said the ban was unlawful based on campaign rhetoric that mentioned the Muslim religion which they bizarrely assert over the clear letter of law providing the president authority over immigration.
A 120-day ban on refugees also is being allowed to take effect on a limited basis. Three of the court's justices said they would have let the complete bans take effect.
Justice Clarence Thomas, joined by Samuel Alito and Neil Gorsuch, said the government has shown it is likely to succeed on the merits of the case, and that it will suffer irreparable harm with any interference. Thomas said the government's interest in preserving national security outweighs any hardship to people denied entry into the country.
Trump, according to the AP, hailed the high court's order as a "clear victory for our national security." Saying in an official release that his "number one responsibility" is to keep the American people safe.
The court's opinion explained the kinds of relationships people from the six countries must demonstrate to obtain a U.S. visa.
"For individuals, a close familial relationship is required," the court said. For people who want to come to the United States to work or study, "the relationship must be formal, documented and formed in the ordinary course, not for the purpose of evading" the travel ban.