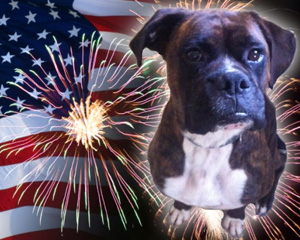 Pet owners know their companions can easily become districted so consider fireworks as the ultimate distraction. Lights and sound may startle past training or loyalty as sharp report drives short attention spans to stampede – possibly beyond your ability to find them. 
Here are 5 tips to keep your pet safe and yourself regret free this July 4.
Dogs and cats trust their humans and rely on instinct, training and loyalty to "their" humans, but loud noises hurt their ears and startle and scare them to flight. More American pets are lost on July 4th than any other day specifically because of pyrotechnics, but that is not the only concern.
#1: PREPARE FOR A PET PRISON BREAK
Rock Stars might like fireworks, but your pet doesn't—that's why July 4 is one of the most popular days for pets to run away. Check your fences and gates to make sure there are no regular or extreme paths of escape. If possible, keep your pets indoors.
#2: DON'T LET YOUR PET EAT EVENT TRASH
Make no bones about it: your pet will eat discarded BBQ bones, corn cobs, and anything else you leave lying around. Clean up your trash to reduce the risk of human foods getting stuck in your pet's GI tract and causing pancreatitis.
#3: DRUGS MAY HELP
If you know that your pet has high anxiety, it's okay to ask for sedation from your vet. You can also ask for anxiety reducing meds like Trazodone, Alprazolam, and Sileo.
#4: BEWARE OF FLEAS AND DISEASE
If you're taking your pet camping, make sure they've got their flea and tick preventative meds. Topical meds don't require an office visit, so don't be lazy: pick it up before your trip.
#5: REMEMBER THAT YOUR PET IS AS THIRSTY AS YOU ARE
While 85 degrees might be fine for you, it's too hot for your pet. Keep cool water around, and steer clear of hot pavement. If it burns your hand when you touch it, it's too hot to walk your pet!
For clarity on these tips, and to ask any other questions about summer safety for your pet, text VET to 67076. The first question is free, and one of Ask.Vet's licensed veterinarians will text you back with customized advice within minutes.